Papa John's: Pizza-chain founder blames NFL protests for slow sales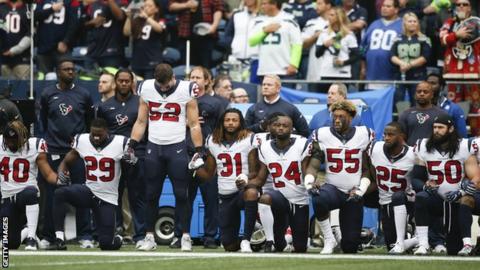 One of the NFL's main sponsors says the ongoing national anthem protests at American football games are to blame for lower than expected pizza sales.
Colin Kaepernick started the protest, against the treatment of black people in the United States, 15 months ago by kneeling during the US anthem while playing for San Francisco 49ers - a stance since adopted by many other players.
Papa John's founder John Schnatter says the NFL's inability to deal with the situation has "hurt us", adding he is "disappointed the NFL and its leadership did not resolve this".
In the company's quarterly earnings call for investors this week, the league's name was mentioned 44 times.
President Donald Trump has criticised the players for the protests and pressed the NFL to ban them.
And Schnatter, who donated to Trump's election campaign, said the dispute should have been "nipped in the bud" when the protest first began.
"The controversy is polarising the customer, polarising the country," he added.
"Good or bad, leadership starts at the top and this is an example of poor leadership. Once the issue is resolved, we're optimistic the NFL's best years are ahead."
NFL ratings have fallen about five per cent from a year ago, although the sport remains the most watched in America.
Papa John's, which operates 4,700 stores across America, reported on Wednesday that it had pulled some television advertising around NFL games and that comparable sales in North America grew 1% in the third quarter, short of estimates and lower than the 5.5% growth the same time a year ago. The company also cut its profit forecast for the year.
The NFL has declined to comment.