Zach Miller: Chicago Bears player thanks staff who helped save leg
Last updated on .From the section American football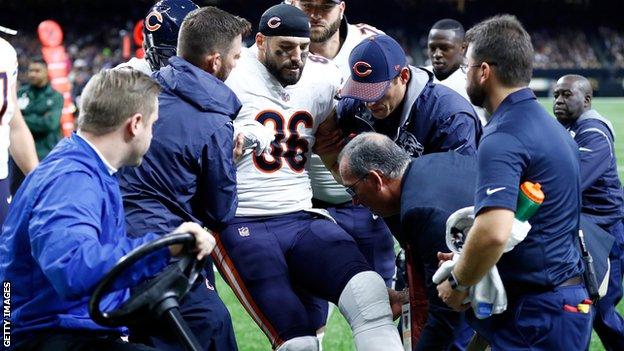 Zach Miller has thanked surgeons after the Chicago Bears tight end was in danger of losing a leg in a freak incident during an NFL game last month.
The 33-year-old landed awkwardly after making a one-handed catch against New Orleans Saints and tore a major artery in his knee.
He needed vascular surgery in a New Orleans hospital to save his left leg.
Miller said: "We have cleared many hurdles and with the help of our doctors we will continue to progress."
Reports in the American media said vascular surgeons were called in an attempt to save Miller's leg, including "grafting tissue from the other leg to repair the damaged artery".
Writing on Twitter, Miller thanked hospital staff and the Bears medical team and said: "Without their teamwork, expertise and urgent care I don't know if the outcome would have been so successful.
"I understand the challenges ahead, but the amount of love and support is beyond inspiring.
"I have been down before and I will do whatever it takes to get back up."