President Trump warns NFL boss he must act on take the knee protest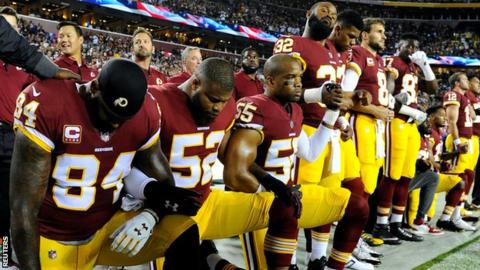 The NFL must "get tough and smart" over the national anthem protest because it is "killing" the league, says US president Donald Trump.
Trump has criticised players who kneel for the anthem, a move started by Colin Kaepernick in 2016, to highlight racial injustice and police brutality.
Some NFL owners reportedly believe players could soon be kept in locker rooms during the anthem as a result.
"That's almost as bad as kneeling," Trump wrote on Twitter.
"When will the highly paid Commissioner finally get tough and smart? This issue is killing your league!"
In October, NFL Commissioner Roger Goodell wrote to franchises stating the take the knee movement threatened "to erode the game's unifying power".
Kaepernick, 30, has been without a team since he opted out of his contract with the San Francisco 49ers in March and has filed a grievance against team owners.
He first protested by sitting during the anthem before opting to kneel.
President Trump was critical when players followed suit, prompting the move to spread further.
Trump lashes out at LaVar Ball
In separate tweets, Trump branded the father of US basketball player LiAngelo Ball an "ungrateful fool" after he refused to thank the President for his role in securing his son's release from prison in China.
UCLA basketball players Ball, Cody Riley and Jalen Hill were released from detention on shoplifting charges. The three thanked Trump during a news conference after their release but Ball's father - LaVar - played down the President's involvement.
On Wednesday Trump tweeted: "It wasn't the White House, it wasn't the State Department, it wasn't father LaVar's so-called people on the ground in China that got his son out of a long term prison sentence - IT WAS ME. Too bad! LaVar is just a poor man's version of Don King, but without the hair.
"Just think LaVar, you could have spent the next 5 to 10 years during Thanksgiving with your son in China, but no NBA contract to support you. But remember LaVar, shoplifting is NOT a little thing. It's a really big deal, especially in China. Ungrateful fool!"