New England Patriots & Philadelphia Eagles reach conference finals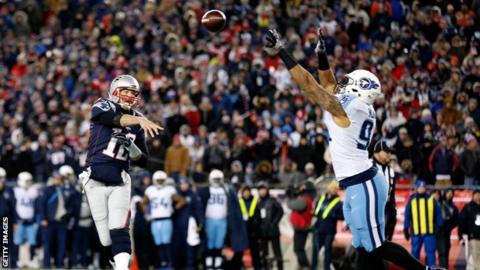 Super Bowl champions the New England Patriots are one game from returning to the NFL's championship showpiece.
They beat the Tennessee Titans 35-14 on Saturday and now face the Jacksonville Jaguars or the Pittsburgh Steelers for a place in this season's Super Bowl.
It will be the Patriots' seventh successive American Football Conference title game.
But the Atlanta Falcons will not be in this year's Super Bowl after losing 15-10 to the Philadelphia Eagles.
They had been hoping for a shot at redemption after squandering a 28-3 lead to the Patriots in 2017's end-of-season finale.
The Eagles will play either the Minnesota Vikings or the New Orleans Saints in next weekend's National Football Conference championship game.
The Patriots' star quarterback Tom Brady, 40, set another record in helping his side to another AFC final - it will be his 10th appearance in the game.
"I just try to be consistent, show up and do the best I can do every week for the team, regardless of whether I'm the worst quarterback in the league or the best quarterback in the league, or somewhere in between," he said.