Colin Kaepernick: NFL quarterback receives Amnesty award for race protests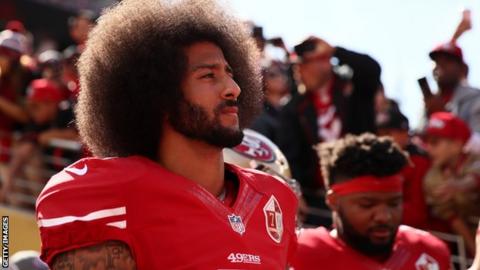 Former San Francisco 49ers quarterback Colin Kaepernick has received Amnesty International's highest honour for his protests against racial injustice.
The human rights organisation said Kaepernick "chooses to speak out and inspire others despite the professional and personal risks".
Kaepernick first protested by sitting during the national anthem in August 2016, before opting to kneel instead.
Other players followed suit, sparking criticism from President Donald Trump.
Kaepernick received Amnesty's Ambassador of Conscience Award, which recognises "individuals who have promoted and enhanced the cause of human rights through their lives and by example".
The 30-year-old has been without a team since he opted out of his contract with San Francisco in March 2017, but his protests against the treatment of black Americans, which came amid a series of deaths at the hands of armed police, remain hugely divisive in the US.
Critics claimed that Kaepernick's actions were disrespectful to the American flag and to members of the armed forces which defend it. Angry fans posted videos of Kaepernick jerseys burning, and the sportsman said he had received death threats.
Amnesty International's secretary general Salil Shetty described Kaepernick as "an athlete who is now widely recognised for his activism because of his refusal to ignore or accept racial discrimination".
"Kaepernick's commitment is all the more remarkable because of the alarming levels of vitriol it has attracted from those in power," he added.
Accepting the award, Kaepernick said. "While taking a knee is a physical display that challenges the merits of who is excluded from the notion of freedom, liberty, and justice for all, the protest is also rooted in a convergence of my moralistic beliefs, and my love for the people."