NFL chief Roger Goodell calls on lawmakers to introduce new rules on legalised gambling
Last updated on .From the section American football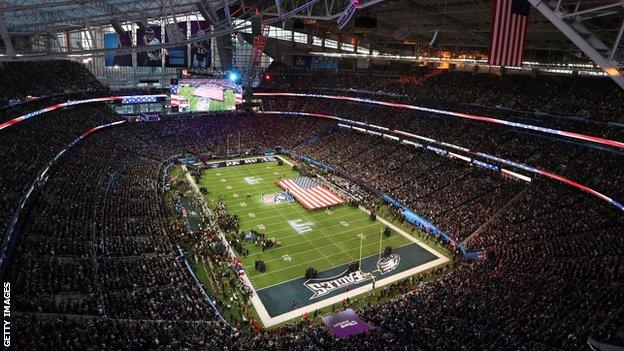 US lawmakers must introduce rules to protect American football's "integrity" after a landmark decision to legalise sports betting in the United States last week, NFL commissioner Roger Goodell has warned.
Goodell has asked Congress to adopt laws with a minimum of four principles.
He said there was "no greater priority" than "the integrity of the sport".
The principles include ensuring law enforcement authorities have the "resources necessary to protect our fans and penalise bad actors at home and abroad".
Goodell also said there must be "substantial consumer protections", leagues must be able to "protect content and intellectual property" and fans should have access to "official, accurate league data".
"Our fans, our players and our coaches deserve to know that we are doing everything possible to ensure no improper influences affect how the game is played on the field," he added.
"We have spent considerable time planning for the potential of broadly legalised sports gambling and are prepared to to address these changes in a thoughtful and comprehensive way, including substantial education and compliance trainings for our clubs, players, employees and partners."
What has changed?
The Supreme Court endorsed a 2014 state ruling in New Jersey which permits sports betting in casinos and at horse racing tracks as well as overturning the 1992 legislation.
That means betting on sports, including American football, could be made legal across all states.
Various sports leagues in the US had opposed betting on games, as they feared it would encourage match-fixing.
Justice Samuel Alito wrote on behalf of the Supreme Court: "The legalisation of sports gambling requires an important policy choice, but the choice is not ours to make.
"Congress can regulate sports gambling directly, but if it elects not to do so, each state is free to act on its own."