Khalil Mack signs record NFL defensive player deal with Chicago Bears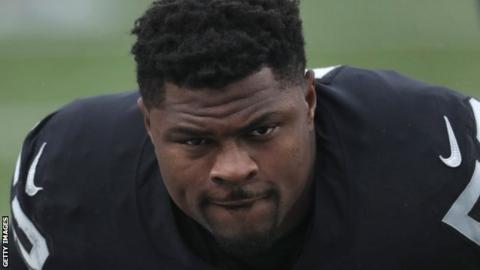 Khalil Mack has become the highest paid defensive player in NFL history after signing a reported $141m (£109m) six-year deal with the Chicago Bears.
The Bears traded the 27-year-old with the Oakland Raiders, and Mack will get a guaranteed $90m (£69m).
The deal breaks the six-year, $135m (£104m) record contract defensive tackle Aaron Donald signed with the Los Angeles Rams a day earlier.
Mack was the NFL's 2016 defensive player of the year.
"We are excited to add a special playmaker like Khalil to our football team," said Bears general manager Ryan Pace.
"Elite defensive players in their prime are rare so when we knew we had a legit shot to acquire him, we did everything we thought necessary to get him."
On Thursday, Green Bay Packers quarterback Aaron Rodgers became the highest paid player in NFL history, after agreeing a four-year contract extension reported to be worth $134m (£103m) and a guaranteed $100m (£77m).
On Monday, Odell Beckham Jr signed a five-year contract extension at the New York Giants worth a reported $95m (£73.7m), making him the highest-paid wide receiver in the league's history.