Colin Kaepernick is taking a stand like Muhammad Ali, says Osi Umenyiora
Last updated on .From the section American football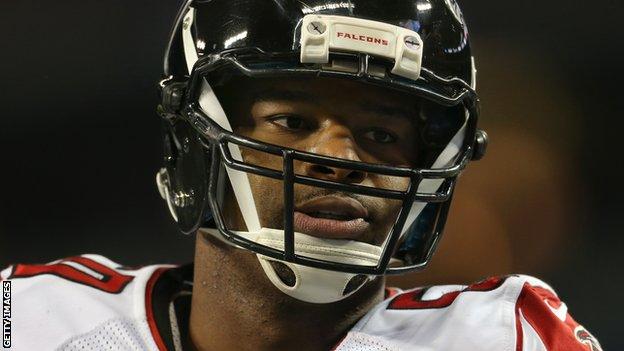 Two-time Super Bowl winner Osi Umenyiora says Colin Kaepernick will go down in history alongside Muhammad Ali for taking a stand over his beliefs.
Kaepernick became the first NFL player to kneel during the national anthem to highlight racial injustice.
But US president Donald Trump criticised sportswear company Nike for using the player to front a new advert.
"I think everybody against it now will look back in the future with regret," Umenyiora told BBC Radio 5 live.
"He'll be regarded as someone that did something special."
Umenyiora who played for the New York Giants and the Atlanta Falcons during 11 years in the NFL, compared Kaepernick with boxing legend Ali and his stand against the Vietnam War in 1967.
"Looking further back down the line, back in history, we've already seen what Muhammad Ali, what Rosa Parks have done," Umenyiora added.
"And when you look into the future, Colin Kaepernick is going to go down as this particular type of athlete, somebody who took a stand for something he believed in.
"So Nike is eventually going to come down on the right side of history [on this]. We respect the office of the President of the United States but I'm not quite sure what he is doing."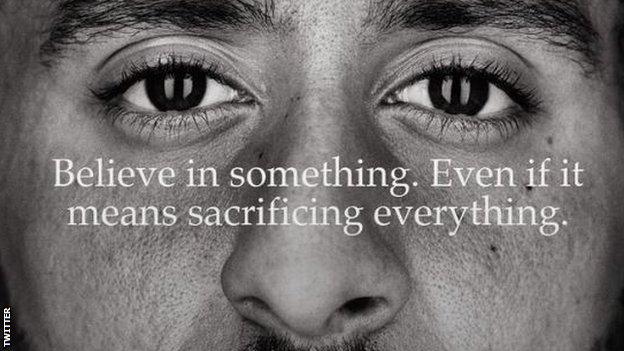 Ali and Parks' fight for their beliefs
Ali, who had changed his name from Cassius Clay two years earlier, was the world heavyweight champion when he refused to enlist into the US Army because of his religious beliefs.
He also referenced the mistreatment of black Americans, saying he refused to co-operate with the US government in oppressing another race of people.
As a result he was stripped of his championship, indicted for draft evasion, fined $10,000 and sentenced to five years in prison.
But he did not serve time and his conviction was overturned on appeal.
Rosa Parks was a civil rights activist who defied segregation laws in 1955 by refusing to give up her seat to a white passenger on a bus in Montgomery, Alabama.
The United States Congress has called her "the first lady of civil rights" and "the mother of the freedom movement".