Kareem Hunt: Kansas City Chiefs release running back over video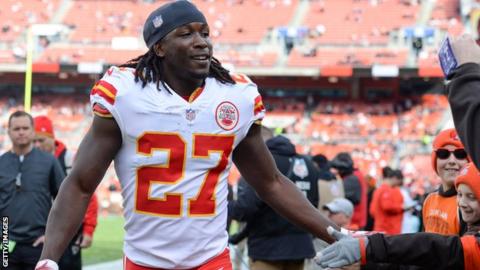 One of the NFL's best running backs, Kareem Hunt, has been released by the Kansas City Chiefs after a video appeared to show him shoving and kicking a woman.
The video, filmed at a Cleveland hotel in February, was released by American news website TMZ on Friday.
The Chiefs say they spoke to Hunt, 23, about an incident earlier in the year and he was "not truthful in those discussions."
"The video released today confirms that fact," the Chiefs said in a statement.
Hunt, who was the NFL's leading rusher with 1327 yards in 2017 and is fifth on the list this season, has apologised, saying: "I deeply regret what I did. I hope to move on from this."
The Chiefs, who are 9-2 this season, are one of the favourites to win the Super Bowl.
Cleveland Police told NFL.com that no arrests were made in the incident and Hunt has not been charged.
The NFL has placed Hunt on the Commissioner Exempt list - meaning he can not practice, play or attend games.
"The NFL investigation, which began immediately following the incident in February, will include a review of the new information that was made public today," the league said in a statement.