NFL 2021 season schedule: Teams to play extra 17th intra-conference game next season
Last updated on .From the section American Football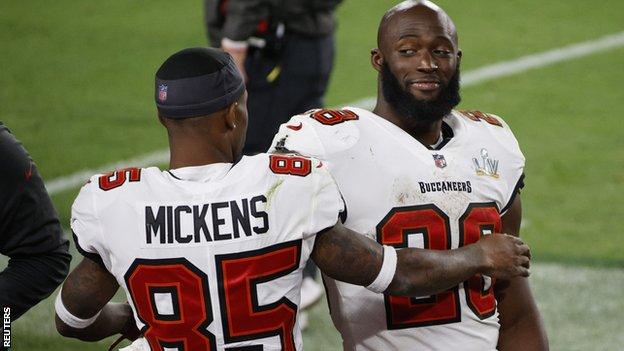 NFL teams will play an additional game in the 2021 campaign, the first time in 44 years a change has been made to the regular season.
The extra game will be between teams that finished in the same place from a corresponding division in 2021.
NFL owners also approved the reduction of the number of pre-season games from four to three.
"This is a monumental moment in NFL history," NFL commissioner Roger Goodell said.
The changes had been expected since the NFL and the National Football League Players Association approved the latest collective bargaining agreement in March 2020.
AFC teams will host this year's games before the conferences alternate.
"One of the benefits of each team playing 17 regular-season games is the ability for us to continue to grow our game around the world," Goodell added.
However, the alteration to the structure has not been met with widespread approval.
New Orleans Saints running-back Alvin Kamara last week tweeted that the new format was "dumb as hell".
Green Bay Packers safety Adrian Amos, Philadelphia Eagles cornerback Darius Slay and Saints defensive end Cameron Jordan also expressed their concerns.
The 2021 NFL season is scheduled to begin on Thursday, 9 September and end on Sunday, 9 January. Super Bowl 56 will take place on 13 February at SoFi Stadium in Los Angeles.
Aaron Rodgers v Patrick Mahomes the headline of the 17th games
Despite some opposition, the formula used to compile the extra games has thrown-up some exciting matches, most notably the Green Bay Packers visiting the Kansas City Chiefs in what many thought would have been the perfect Super Bowl match-up back in February.
The Packers fell at the final hurdle against the Tom Brady's Tampa Bay Buccaneers, who then went on to beat the Chiefs 31-9 in Miami to win their second Super Bowl title.
Fans will now get to see that battle between star quarterbacks Aaron Rodgers and Patrick Mahomes at Arrowhead Stadium next season.
Veteran Brady, who is back for another season and now chasing an eighth Super Bowl, will lead his side in what will be a tough game against the Indianapolis Colts, who made the play-offs last season and have added quarterback Carson Wentz to a side primed for another big post-season run.
Two of the biggest teams in the NFL will also play each other with both needing to lift themselves after a poor season last year, with the Dallas Cowboys visiting the New England Patriots.
NFL 17th game fixtures
Green Bay Packers @ Kansas City Chiefs

Tampa Bay Buccaneers @ Indianapolis Colts

Dallas Cowboys @ New England Patriots

Washington Football Team @ Buffalo Bills

New York Giants @ Miami Dolphins

Philadelphia Eagles @ New York Jets

Seattle Seahawks @ Pittsburgh Steelers

Los Angeles Rams @ Baltimore Ravens

Arizona Cardinals @ Cleveland Browns

San Francisco 49ers @ Cincinnati Bengals

New Orleans Saints @ Tennessee Titans

Carolina Panthers @ Houston Texans

Atlanta Falcons @ Jacksonville Jaguars
A new formula for international NFL games
The NFL has also announced that from 2022, four of the new 17th games will be played internationally outside of the United States, with different teams being chosen over the first eight years of the agreement to ensure all 32 teams host an international game.
The United Kingdom and Mexico currently stage NFL games but other venues around Europe and even Canada have been mentioned as possible locations.
This new agreement will not prevent teams from also offering to host a further game outside of America, such as the Jacksonville Jaguars who have been playing a game at Wembley every year since 2013.
The Jaguars were due to play two games at Wembley on successive weekends in 2020 before the coronavirus pandemic caused them to be relocated back to Florida.
To date, 28 regular season games have been played in London with 31 of the 32 teams having taken part, with six teams playing four games in Mexico. The Packers are the only team yet to play in an international game.