Jersey archer Lucy O'Sullivan has Olympic 2020 hope
Last updated on .From the section Archery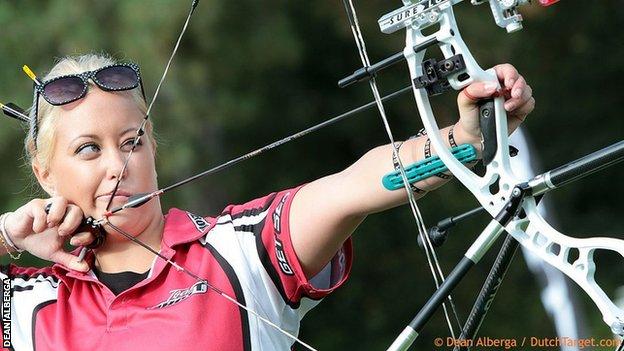 Jersey archer Lucy O'Sullivan hopes compound bow archery will be included in the Olympics by 2020.
Her discipline will not feature at London 2012 when the recurve bow takes centre stage.
"We've got World Championships coming up and Commonwealth Games and hopefully compound archery gets recognised soon," O'Sullivan told BBC Radio Jersey.
O'Sullivan has represented Jersey at events around the world and won gold at the 2011 Island Games.
But the 21-year-old, who has just finished her degree in sports science at Nottingham Trent University, will have to wait for her chance to shoot on the biggest sporting stage of all.
"We are trying different competitions to enable compound archery into the Olympics," she said.
"I hope in 2020 we will finally get the bid, I'm not sure about 2016 but I'm always hopeful."
The recurve bow is so-called because the tips of its limbs curl away from the archer. When the string is pulled back, the curves straighten to give leverage.
The compound bow, invented in the USA in 1967, has a stiffer limb so has a levering system to make it bend.
Although unable to compete at the London Games, O'Sullivan will be there to cheer on Team GB.
She said: "The good thing is that we have a successful Great Britain team this year in the recurve archery. Hopefully they win lots of medals.
"I think the number one thing for every athlete is to appear in the Olympics so I really hope compound archery gets the bid and one day I'll make it there."
Archery has been completely left out of the Island Games in Bermuda in 2013, although it will feature when Jersey hosts the inter-island event two years later.