Paralympic archer Dani Brown wins World Cup silver medal
Last updated on .From the section Archery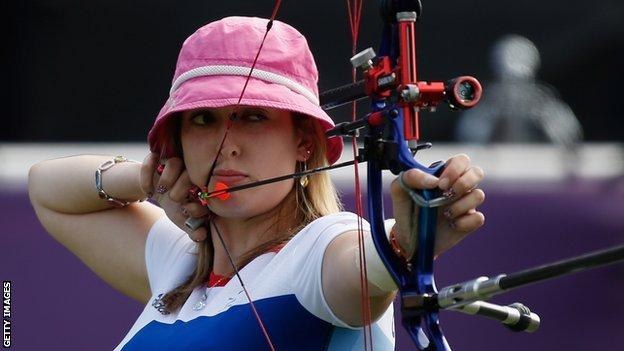 Paralympic archery champion Dani Brown won the silver medal at Saturday's World Cup Grand Final in Tokyo.
United States archer Jamie Van Natta narrowly won the women's compound final which went down to the last arrow.
Yorkshire's Brown, 24, is the first Paralympian to feature in World Archery's top event, having been given the chance to compete when an automatic qualifier pulled out with injury.
"I'm so thrilled I've come away with a silver medal," she said.
"I was a late call-up, and it gave me a great opportunity to go up against the best compound archers in the world."
Van Natta had led by three points ahead of the final end, but Brown fired a 10 with her last arrow to leave her opponent needing a nine or better - and a nine sealed the American's second gold in her fifth Grand Final.
Brown beat compatriot Mel Clarke to Paralympic gold at the Royal Artillery Barracks in London earlier this month.
The Briton became the first disabled archer to represent England at the Commonwealth Games in Delhi two years ago, and won a gold medal with Nicky Hunt and Nichola Simpson in the team tournament.
Britain's other competitor at the event, Larry Godfrey, missed out on a medal in the men's recurve tournament on Sunday, where he was beaten in his opening match by reigning world champion Kim Woojin of Korea, who went on to win the title.
Woojin shot three perfect 10s to win the first set and although both scored 25 in the second, Woojin won the third and was able to match Godfrey's 9-9-10 with a 9-10-9 in the fourth set to reach the semi-finals.
Godfrey, who also missed out on an Olympic medal when he bowed out in the last 16 in London last month, has now lost to Woojin on three successive occasions.
"I came here to win a medal, and obviously I'm disappointed I'll leave empty handed, but all in all I've had a good year," said Godfrey.
"I gave it my very best, but fair play to Kim, he matched me arrow for arrow, and then went on to win the gold medal."