Rio 2016: Archer Nicky Hunt's medal hopes boosted by funding
By Chris Osborne
BBC East Sport
Last updated on .From the section Archery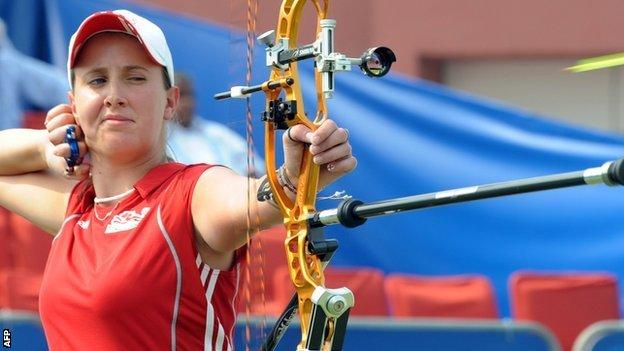 Nicky Hunt has said she expects to challenge for a medal at Rio 2016 after learning she will receive full Olympic funding from Archery GB.
The former compound world number one in March to pursue a place at London 2012.
But she missed out on qualification by 19 points from the 6,000 available.
"I would like to be on that podium and I think it's good to aim high. My eyes are on a medal," the 27-year-old from Ipswich told BBC Sport East.
"I think I've got to be looking towards medals. This is what it's about really."
A podium place in Rio would be achievable for Hunt if she can translate her prowess in the compound to the recurve over the next four years.
She won two gold medals at the 2010 Commonwealth Games and was consistently ranked the best in the world in compound, a discipline that is not an Olympic event.
"I think I've got a lot to prove still in the discipline, but as soon as I put that compound down in March of last year I was fully committed to the recurve," she said.
"It was all eyes on London and now I have the opportunity to go for Rio, it's still all about the recurve.
"I feel confident. I'm a proven winner. I know that I can win in archery and I can cope in head-to-heads and I've got four more years to hone my skill."
Hunt has been able to take time off from her job as a physiotherapist thanks to a combination of the National Lottery funding granted to her by Archery GB, as well as securing continued sponsorship from two Suffolk companies.
"The funding is key. If you haven't got the support of your governing body it makes everything so much harder," she added.