Archery: Larry Godfrey wants TV coverage to boost legacy
By Dan White
BBC Kick Off reporter
Last updated on .From the section Archery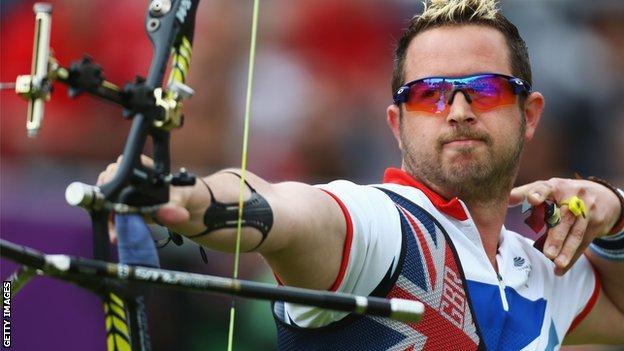 Bristol Olympian Larry Godfrey believes continued television coverage of archery will aid the sport's legacy.
This year, Sport England has put in £750,000 to improve the support given to archers at club and county level.
But Godfrey, who was beaten in the last 16 of the men's individual tournament at London 2012, believes media coverage will also increase participation.
"After every Olympic cycle we get an influx of beginners due to the exposure on TV," the 36-year-old told BBC Sport.
"I think there is something we can do to make archery a regular televised event.
"There seems to be a lot of interest in the sport, certainly around the Olympics and even now.
"We have over 4,000 members around the country so I would like to see it move on even further."
Godfrey, ranked 18th in the world, has competed in the last three Olympics - with his best placing coming in Athens in 2004, when he finished fourth.
Since missing out on a medal in London, the Cleve-based archer has been working towards the World Cup events and World Championships, which start at the end of September in Turkey.
And he believes these post-Olympic events need to be given coverage to enhance the sport's profile.
"What I would like to see is maybe one of the big television sponsors get hold of an event like this [World Championships] and start getting it on TV," he said.
"Look at darts before that became televised - it was quite similar to archery in that not many people did it, apart from pub people, but once it got televised then it was massive."