London 2012 disappointment drives archer Nicky Hunt
Last updated on .From the section Archery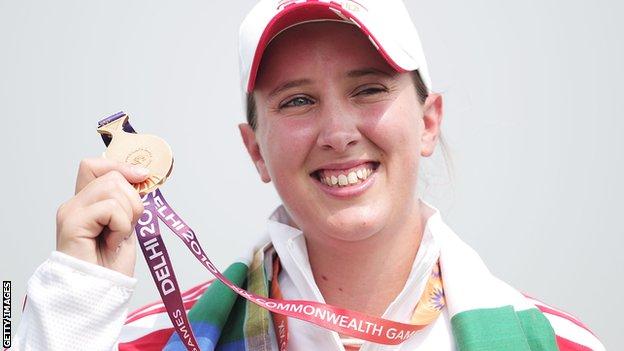 Britain's Commonwealth champion Nicky Hunt has said failure to make the team for last year's Olympics will intensify her desire to reach Rio 2016.
Hunt, 28, bow in 2010 in pursuit of London 2012 qualification.
"It was always going to be tight to make London," she told BBC Sport.
"I did the best I could and have no regrets with that. And it's already given me a two-year advantage going into Rio."
Hunt was number one in the world in compound, but the event does not have Olympic status so the Ipswich archer has focused on the recurve bow.
She finished 2012 ranked sixth in Britain and just missed out on the team for this month's World Championships.
But with the help of the double Commonwealth Games gold medal winner has been able to take time off from her job as a physiotherapist to focus full-time on archery.
"I was very lucky to be able to transfer into the programme," she said.
"If we hadn't had a home Olympics perhaps we wouldn't have had the funding for me to be able to make that transition at that time.
"When I was world number one in compound I was working full-time. I shot in the evenings and did nothing else.
"Now I'm a full-time athlete and UK Sport's funding has been massive and I couldn't do it without my local sponsors in Ipswich."