Sadiki Bolt on cricket and his brother Usain
By Leon Mann
BBC Sports News
Last updated on .From the section Athletics
"People always want to know 'Who is Sadiki?' but I'm kind of low key," Sadiki Bolt says with a cheeky grin. "People want to know about me."
In short, Sadiki is the housemate who gets woken up by the world's fastest man every morning, the brother Usain Bolt celebrates with when he smashes world records and also a young man with his own sporting talent.
I'm in Jamaica to see Sadiki's big brother and talk about sprinting, world records and London 2012.
When I last saw Usain he told me about Sadiki being a top cricketer. I wanted to see for myself so headed down to Melbourne Cricket Club in Jamaica's capital.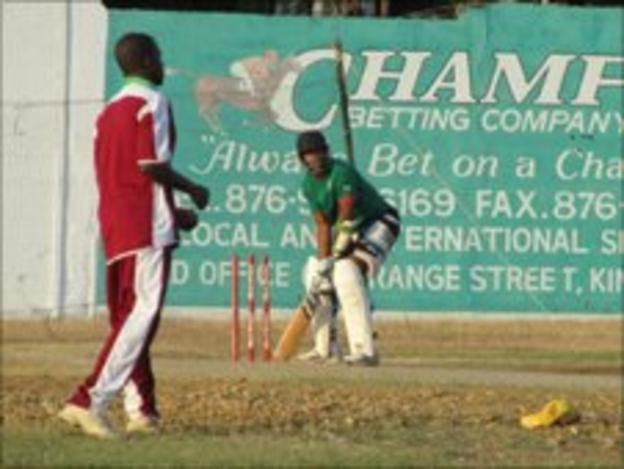 The club has a tradition of bringing through great cricketers; West Indies legends Michael Holding and Courtney Walsh both played the Kingston club. But the brother of the world's fastest man isn't a pace bowler - he bats at number three.
"Cricket is a passion of mine. I really love cricket - it relaxes me. It's good to do something in life that you love and can earn from at the same time.
"I also have some business ventures that I want to look into but my main thing right now is cricket."
When Sadiki takes to the crease he doesn't disappoint. Dispatching the bowlers to all parts of the ground with an impressive array of shots, he saves the big hits to the end of practice and begins showing off - a family trait maybe?
The 24-year-old dreams of playing for West Indies but knows he must first break into the Jamaica national side to come close to realising this ambition. It's a big challenge but one he believes he can achieve.
A greater concern for him is the future of cricket on the island. A lack of funding has lead to young cricketers leaving the sport to find other ways of making money to support their families.
"The talent pool is here, but we need some more sponsors so we can build our resources so players can earn and provide for their family from cricket.
"Twenty20 is the dominant cricket venture in the world right now. But we don't even have floodlights so people can play night cricket."
I'm keen to talk about Sadiki but inevitably we get around to talking about his brother. He is full of praise for Usain the cricketer: "He's a good bowler. He's got pace - a little bit skiddy!"
I attempt a joke by asking who the better cricketer is.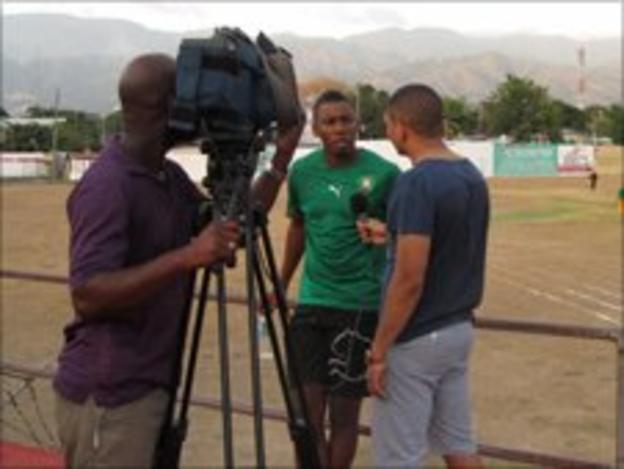 "Most naturally, me!" he says, but there is no sign of a smile. "He's a runner. I'm a cricketer. I can bat… as you can see."
The smile returns as he offers some inside information: "His favourite team was actually Pakistan growing up. He supports West Indies but loved Wasim Akram. He loved that guy."
Sadiki talks with a real admiration for Usain He struggles to find the words to describe what it's like to be his younger brother but eloquently explains what his achievements have done for the country.
"He put us on the map again. It used to be Bob Marley but Jamaica has reinvented itself because of him. Tourists come here just to meet him."
So what advice has Usain offered him in getting to the top?
"Work hard."
Is that it?
"That's it - work hard. If you don't work hard you're not going to end up with anything. So you have to work hard."