Lee Merrien confesses to 'mixed feelings' over marathon
Last updated on .From the section Athletics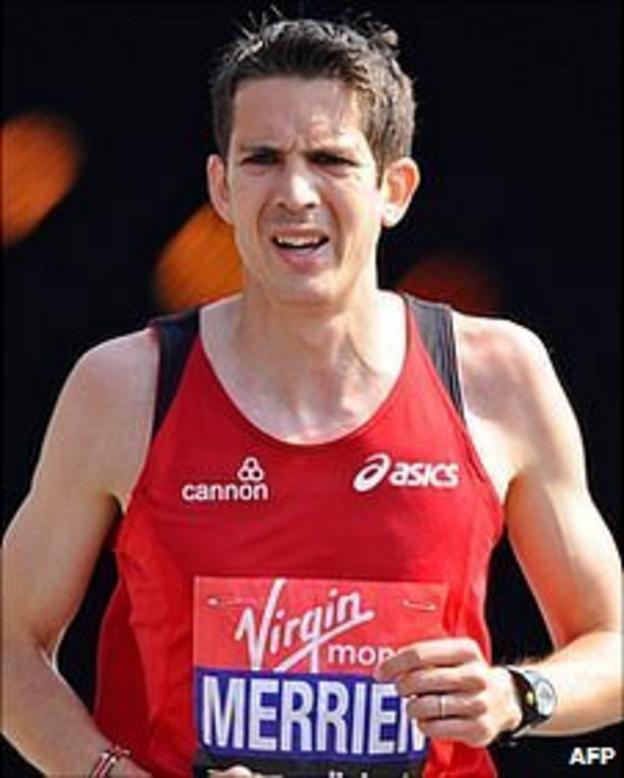 Lee Merrien has admitted to having "mixed feelings" at being the first Briton in Sunday's London Marathon.
His time of two hours, 14 minutes and 27 seconds was a personal best, but missed the Olympic A qualifying time.
He said: "It was always going to be tough to get inside the 2:12 [Olympic A qualifying] mark, but I'd like to have got closer.
"I'm still pleased - it's inside the time for the world championships and the B standard for the Olympics."
Merrien, from Guernsey, added: "It's a big chunk off my personal best so I can't be too disappointed."
And he paid tribute to the London crowd: "If you were going out for a 26-mile run on your own and there wasn't a soul around it would be less inspiring than it is with thousands of people watching you from the sidelines all the way round.
"It's a huge factor in performing well and it gets the adrenaline pumping. It keeps you going through those tough patches in the race."
For next year's Olympics, Great Britain can select up to three runners who have met the A standard (two hours, 12 minutes) or one runner who has met the B standard (two hours, 16 minutes).
If Merrien is selected for the this year's world championships in Daegu, South Korea, (which has A and B standards of two hours, 13 minutes and two hours, 17 minutes) a top 20 place there would also count as achieving Olympic A standard.