Jessica Ennis wins heptathlon on return event in Gotzis
Last updated on .From the section Athletics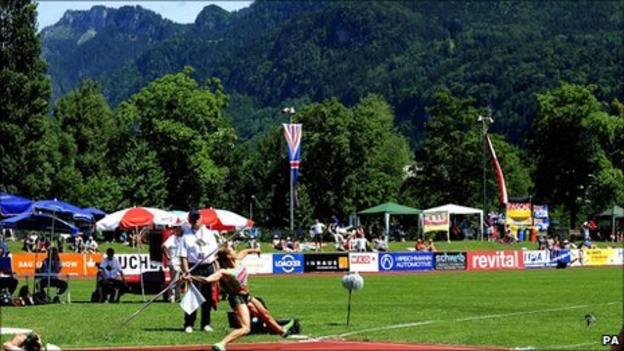 Jessica Ennis was just short of a British record but won the heptathlon at the Hypo Meeting in Gotzis on her return to action after injury.
Leading after day one with a total of 4,097 points, the world and European champion was bearing down on Denise Lewis's 11-year-old mark on day two.
She leapt 6.37m in the long jump and threw 43.83m in the javelin, but her 800m personal best left her just short.
Ennis's total of 6,790 was only 33 points below her best ever total.
"I'm so glad that's over," Ennis said afterwards. "I think I'm actually in the best running shape of my life considering I missed so much. I think some of the technical things were off, but I'm so pleased and really surprised."
There was little sign of a recurrence of the ankle injury at the event in Austria which has kept the 25-year-old out of action for seven weeks.
Ennis's 800m personal best of two minutes 08.46 seconds was almost a second and a half better than her previous best and it capped a fine event where she ended up winning by 251 points from Russia's Tatyana Chernova.
France's Antoinette Nana-Djimou was another 130 points adrift in third, while Olympic champion Nataliya Dobrynska was sixth, 458 points behind Ennis.
"I didn't for one minute think I could score that and win as well," Ennis added. "I'm always nervous before a heptathlon and just before that 800m I thought I could either be sick or cry. I'm so relieved now it's done and I'm happy with my performance.
"I've done what I set out to do and I couldn't ask for much more really. It's a massive relief and my ankle feels brilliant so that's really positive."
On day one Ennis, from Sheffield, enjoyed victories in the 100m hurdles and high jump and a personal best over 200m, giving her a 300-point lead over Canada's Jessica Zelinka.
She won the hurdles in a time of 13.03 seconds and overcame difficulties at 1.85m and 1.88m to win the high jump with a best of 1.91m.
The shot put is one of her weakest disciplines and she was forced to settle for a best of 13.94m but the 200m brought a new personal best of 23.11 seconds.
The win for Ennis maintains her record of not losing a multi-event competition since missing out on the Beijing Olympics in 2008.
She won the world title in Berlin in 2009 and followed that with gold in the pentathlon at the World Indoors in Doha in 2010 and the European Championships in Barcelona the same year.
Ennis admitted it had been something of a gamble to put her unbeaten record on the line this weekend, but added: "I always wanted to come but then halfway through my injury I started to think there wasn't enough time to be ready.
"I had about six weeks to prepare and that's about the bare minimum you'd need. I didn't want to come and produce a poor score and send out the wrong message with the World Championships this year.
"It was a bit of a gamble but as I started training I was in quite good shape and running well so I knew I could get myself in reasonably good shape and the gamble paid off.
"It's given me so much confidence. Now I know that if I have an injury I can get myself into shape in six weeks and that's good for this year and next year.
"I know people like Dobrynska will come out a different athlete at the World Championships, but it's given me that confidence. I know I've got weeks more training to do and I can get myself in even better shape."