Mark Butler previews the European Team Championships
By Mark Butler
BBC Athletics Statistician
Last updated on .From the section Athletics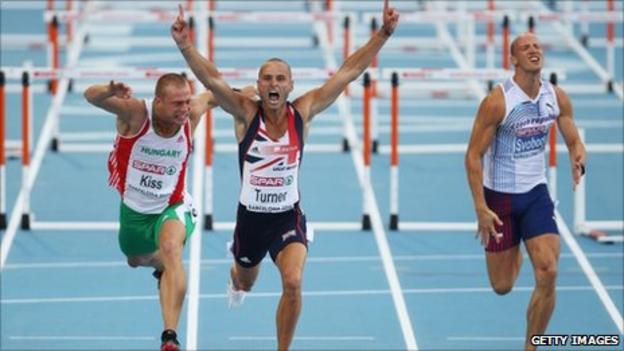 Having followed the European Team Championships and its predecessor the European Cup since the 1970s, I have come to learn that the tournament is not so much about who has the best athletes, but who has the next best athletes.
We should not be surprised that in a year with a very late World Championships, elite performers like Mo Farah, Jessica Ennis, Christine Ohuruogu, etc are not ready or willing to put their reputation to the test at this stage.
The same is true for other countries, with the men's triple jump being an excellent example.
Like Idowu, world indoor record holder Teddy Tamgho is a late withdrawal and so is Sweden's former Olympic champion Christian Olsson, both injured.
Though we will earn less points than expected in that event, the absence for instance of the top German sprinters Sebastian Ernst and Verena Sailer should mean Britain scores better in the men's 200m and women's 100m.
The volatility of the entry list brings as many advantages as there are problems for all of the 12 competing countries. It is swings and roundabouts, an expression which is used in the same way in Swedish - gungorna och karusellen - "the swings or the roundabouts."
All of which makes my job of forecasting more challenging, because excellent new athletes come into play and their placings are just as important as the great champions who will be performing at Stockholm's Olympic Stadium this weekend.
It's not enough to consider Dwain Chambers v Christophe Lemaitre in the men's 100 metres, I must also ponder who will place in the bottom four in the women's hammer throw. Hopefully not new British record holder Sophie Hitchon, who I feel can place at least eighth.
While Britain will miss some star performers, we will gain extra women's points this year from newly transferred Shana Cox (400 metres), Tiffany Porter (100m Hurdles) and Shara Proctor (Long Jump). Those last two events in particular have been ones where we have scored badly in recent editions. This time it is possible that the British women's score could approach that of our men.
Adding together 40 events worth of 12 placements, I am predicting that Russia will retain their European Team Trophy from Germany and Ukraine, with France and Britain battling for fourth place. I think it will be a great weekend for our hurdlers and men's relay teams, but less so for our triple jumpers and shot putters.
All of which means there is no danger of relegation for the country which will host the next edition of this meeting at Gateshead in 2013.
PREDICTED TEAM PLACINGS
1 Russia 366
2 Germany 348
3 Ukraine 317
4 Great Britain & NI 304
5 France 302
6 Italy 258
7 Poland 250
8 Czech Republic 237
9 Spain 222
10 Portugal 183
11 Belarus 177
12 Sweden 156
PREDICTED BRITISH PLACINGS
Sat:

women's hammer, Sophie Hitchon

8th
Sun:

men's hammer, Andy Frost

11th
Sat:

men's 400m hurdles, Dai Greene

1st
Sun:

women's shot putt, Rebecca Peake

11th
Sat:

men's shot putt, Greg Beard

12th
Sun:

men's 110m hurdles, Andy Turner

1st
Sat:

men's long jump, Chris Tomlinson

5th
Sun:

women's long jump, Shara Proctor

7th
Sat:

women's pole vault, Holly Bleasdale

5th
Sun:

men's pole vault, Steven Lewis

5th
Sat:

women's 100m, Anyika Onuora

4th
Sun:

women's 200m, Abiodun Oyepitan

4th
Sat:

men's 400m, Conrad Williams

3rd
Sun:

men's 800m, Gareth Warburton

6th
Sat:

women's javelin, Goldie Sayers

5th
Sun:

women's high jump, Emma Perkins

11th
Sat:

women's 800m, Jenny Meadows

2nd
Sun:

men's discus, Brett Morse

7th
Sat:

men's high jump, Samson Oni

6th
Sun:

women's 100m hurdles, Tiffany Porter

1st
Sat:

men's 100m, Dwain Chambers

2nd
Sun:

men's 3,000m, Andy Baddeley

2nd
Sat:

women's 3,000m, Stevie Stockton

9th
Sun:

women's 1,500m, Charlene Thomas

4th
Sat:

women's 400m hurdles, Perri Shakes-Drayton

2nd
Sun:

men's triple jump, Kola Adedoyin

12th
Sat:

women's triple jump, Yasmine Regis

10th
Sun:

men's 200m, Danny Talbot

3rd
Sat:

men's 1,500m, James Shane

5th
Sun:

women's discus, Jade Nicholls

8th
Sat:

women's 3km steeplechase, Eilish McColgan

9th
Sun:

women's 5,000m, Helen Clitheroe

3rd
Sat:

men's javelin, James Campbell

7th
Sun:

men's 3km steeplechase, Luke Gunn

7th
Sat:

women's 400m, Shana Cox

5th
Sun:

women's 4x400m,

2nd
Sat:

men's 5,000m, Andy Vernon

4th
Sun:

men's 4x400m,

1st
Sat:

women's 4x100m,

5th
Sat:

men's 4x100m,

1st