Island Games: Isle of Man team finish second in medal table
Last updated on .From the section Athletics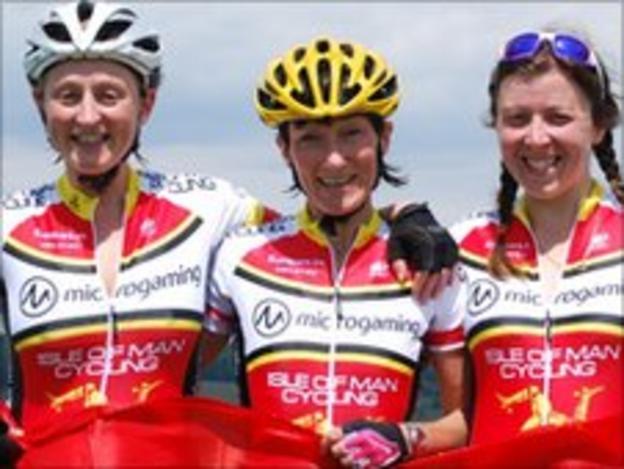 The Manx team won five more golds to finish second to Guernsey in the Island Games medal table with 26 gold, 22 silver and 20 bronze medals.
The women's mountain bike team of Jacqui Fletcher, Julie Lyness and Nikki Sharpe won top prize.
Josh Green won gold in the men's badminton, Keith Gerrard won the 1,500m and Paul Lowey won the golf, with the men's team also winning gold.
In the men's mountain bike race Elliot Baxter won individual silver.
The men's team also finished with silver, behind Guernsey whose Rob Smart won the men's event.
Meanwhile, runner Keith Gerrard won the 1500m in a new Games record time of 3:48.45 to go with his 5,000m crown and Kevin Loundes won his second silver of the Games in the men's 10,000m.
Also on the track, both the men's and women's 4x400m relay team's won silver, as did the women's 4x100m relay team, with men winning bronze.
The Isle of Man's woman's football team was left disappointed as they were soundly beaten 6-1 by Aland, who retained their title.
The Manx side were, however, the first women's football team from the British Isles to reach the Island Games final.
Jade Burden had given Keith Lunt's side a fourth minute lead before Aland took control of the match to run out comfortable winners.
Shooter Davy Clague won silver in the men's individual skeet behind Ed McLean of the Cayman Islands and there were three further bronze medals for the Island's badminton team.
Kim Clague won the women's singles bronze and the doubles pairings of Josh Green and Ben Lee and Clague and Cristen Callow rounded off a great tournament for the Isle of Man team.