Runners prepare for second Belfast 24-hour challenge
Last updated on .From the section Athletics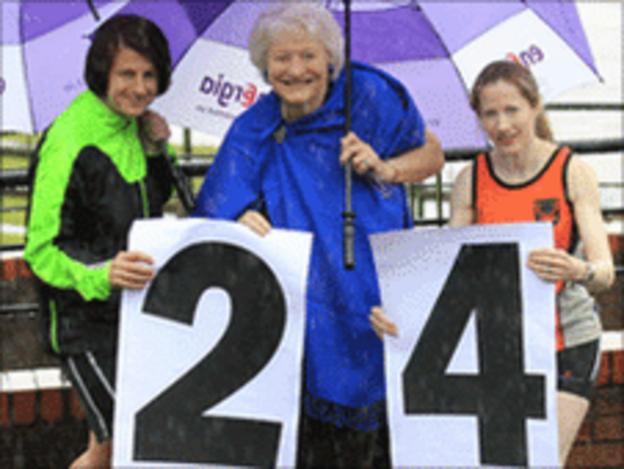 Competitors from seven countries are set to compete in the second Belfast 24-Hour race at the Mary Peters Track on 22/23 July.
Fermanagh man Thomas Maguire won last year's inaugural event as he clocked up a remarkable 127 miles.
Last year's women's winner Lynne Hanna - who ran 91 miles during the 24 hours - will defend her title.
The 2011 Energia-sponsored Belfast event will also be the Irish Championships for the 24-hour distance.
The event will be run in conjunction with Ultra Running Ireland and the intention is that a bid will be made to stage the European Championships in Belfast at some stage in the future.
£500 prizes will go to the winners of the men's and women's races and there are special awards for all those who pass the 100-mile mark.
There is also a 24-hour relay and 12-Hour race and entries will close on 15 July.
Last year, Maguire was among four runners who passed the 100-mile mark in Ireland's first ever 24-hour race.
Overseas visitors will include 59-year-old Icelandic hopeful Gunnlaugur Juluisson who holds his nation's 24-hour treadmill record plus Hungarian mother-of-five Timea Bontovics who will be tackling the day long event for the first time.
John O'Regan, who has raced up the steps of the Empire State Building in New York, will travel North from county Kildare for the event while Madrid-based Belfastman Eddie Gallen, second last year, will try to go one better 12 months on.
Belfast men Gerard McCann and Liam McGarry have also signed up for the event which will start at the Mary Peters Track at 1845 BST on 22 July.
Belfast City Council is also backing the event through its Support for Sport initiative.