Sanya Richards-Ross 'forgives' Justin Gatlin
Last updated on .From the section Athletics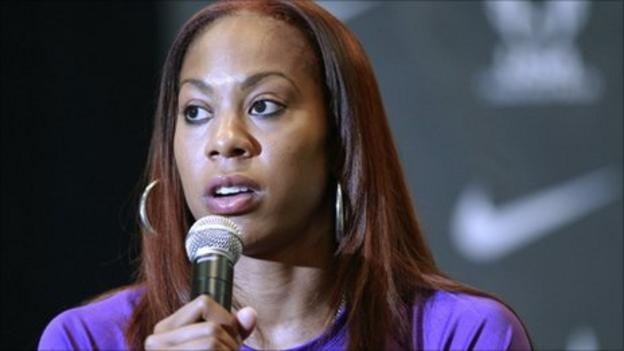 World 400m champion Sanya Richards-Ross said she has forgiven sprinter Justin Gatlin after his return to athletics following a four-year drugs ban.
He was suspended after testing positive for testosterone in 2006, but is in the United States team for the 100m at the World Championships in South Korea.
"Even though I have forgiven him, I do think his actions affected us in a negative way," she told Radio 5 live.
"It really broke my heart when he was banned from the sport."
Gatlin, whom Richards-Ross described as having been her "close friend", returned to the track at an event in Estonia in August 2010 after serving a four-year ban.
Former Olympic and world champion Gatlin has insisted that he has never knowingly taken a performance-enhancing substance.
"I did feel betrayed when he got caught, but he did his time - and I'm now proud to see what he's doing," Richards-Ross added.
"For somebody like Justin Gatlin, who has served four years and has stayed in it and is now running, it's inspirational to see someone do that.
"I think four years is adequate enough punishment for most athletes who test positive.
"The chance of them cheating again goes to zero because they would never want to go through that embarrassment again of missing seasons."
Jamaican-born Richards-Ross had previously said that she favoured lifetime bans for athletes found guilty of doping violations, but the 400m runner has changed her view and now advocates that they should be given a second chance.
"Once they have been punished you give them an opportunity to come back," the 26-year-old stated.
Richards-Ross is running in Birmingham on 10 July before she travels to South Korea for the World Championships, which take place between 27 August and 4 September.
The women's 400m is set to be one of the most keenly contested events in Daegu with a host of medal contenders led by Richards-Ross, Amantle Montsho from Botswana, Britain's Christine Ohuruogu and American Allyson Felix.