Kildare man John O'Regan wins Belfast 24-hour race
Last updated on .From the section Athletics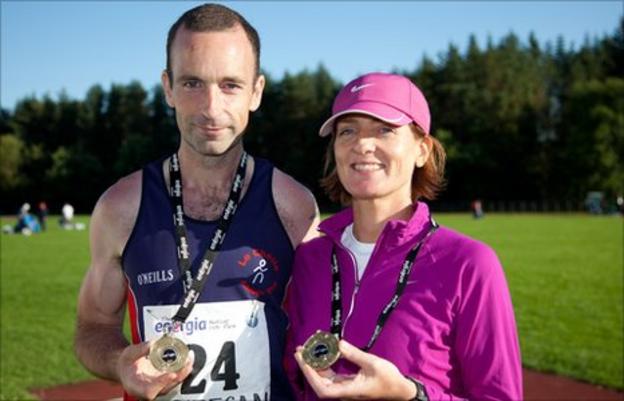 Kildare man John O'Regan set a new track record of 132 miles as he was crowned Irish champion by winning the Belfast 24-hour race.
O'Regan's distance beat the 127 miles set by last year's inaugural race winner Fermanagh man Thomas Maguire.
With Maguire dropping out after 16 hours, Madrid-based Belfast man Eddie Gallen finished second with 127 miles.
Tipperary native Deirdre Finn was first woman finisher as she produced 112 miles which left her sixth overall.
Limerick man Michael Cunningham, 46, set the early pace at the Mary Peters Track as he covered the opening marathon distance of 26.2 miles in three and half hours.
However, O'Regan, 41, moved into the lead by half distance and he went through the 100-mile barrier in under 17 hours.
O'Regan stayed on the track round-the-clock in the Energia sponsored race as did 48-year-old runner-up Gallen.
Powerful Icelandic competitor Gunnlauger Juliusson finished in third place on 120 miles.
However, performance of the race came arguably from women's winner Finn who added 22 miles to last year's best female time set by Lynne Hanna.
Hanna improved her personal best as she also went through the 100-mile barrier while Hungarian Timea Bontovics was third best female with 91 miles.
In all, 18 athletes went beyond 100 miles in the day-long event.
Belfast mother-of-two Susan McCartney collapsed in the middle of the track after running for 12 hours but after resting for four hours, then resumed the race to complete 86 miles by the finish.
The 12-hour race was won by Welshman Sean McCormack who achieved 68 miles while the Orangegrove quartet of Liz Leitch, Gary Keenan, Colin Fulton and Ralph Coetzee won the relay event with a total of 170 miles.
Race director Ed Smith spoke of the "true heroics" produced at Mary Peters Track.
"It's mind over matter stuff. And, the miles covered were amazing - especially with a very cold night and a very hot day to cope with. Well done to them all," added Smith.