David Gillick ends season and quits US training base
Last updated on .From the section Athletics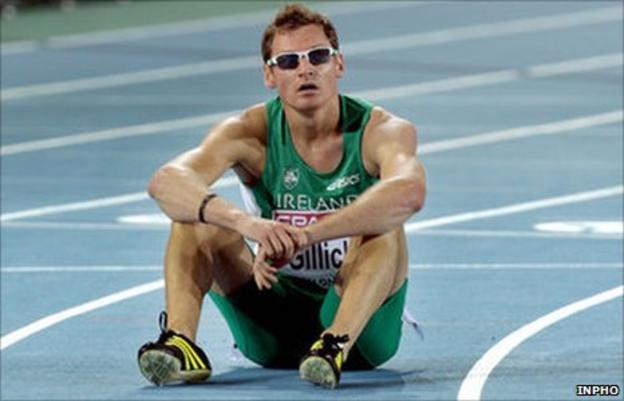 David Gillick has called time on the remainder of this season and also decided to return to working with his former coach Nick Dakin.
Gillick opted to switch his training base to Florida last autumn and has been working with Lance Brauman's group of athletes in Clermont.
However, Gillick's best 400m time this season is 46.64 - nearly two seconds outside his Irish record of 44.77.
The Dubliner has also been affected by a calf injury in recent months.
The twice European Indoor champion said that he had taken the "tough decision" to cut his season short on medical advice and he will next next month's World Championships in Daegu.
"Obviously I am very disappointed to have to sit the season out," said the 28-year-old.
"I have invested a lot of time and effort in attempting to make this a successful year but unfortunately tearing my calf muscle and the subsequent problems have put me way behind where I want to be."
Gillick will be guided again by Dakin at Loughborough in England as he focuses his attentions on challenging for a place in next year's Olympic 400m final in London.
"I want to do everything in my power to achieve my full potential in biggest stage of all, the Olympic Games.
"Moving to America was a massive learning curve and it was an opportunity that I am glad that I pursued.
"The aim now, however is to recover and to return to 100% fitness.
"I will have a great team around me and with their support, I truly believe that I can perform at the highest level again on the world stage."
Meanwhile, Letterkenny athlete Ruairi Finnegan won the 1500m gold at the European Youth Olympics in Turkey on Wednesday.
Finnegan took gold in 3:53.78 which left him ahead of Italy's Samuele Dini (3:54.45).
Dundrum South Dublin athlete Siofra Cleirigh Buttner (4:26.42) won silver in the women's 1500m behind Britain's Sophie Riches (4:25.95).