Eilidh Child targets World 400m final in Korea
By Kheredine Idessane
BBC Scotland Olympics and Commonwealth correspondent
Last updated on .From the section Athletics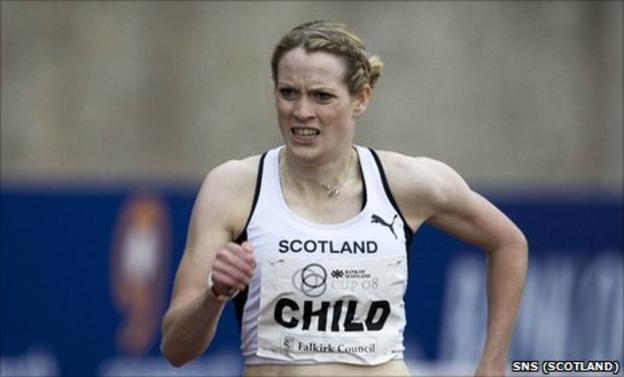 Scotland's Eilidh Child is targeting a place in the 400m hurdles final when she heads off to the World Athletics Championships in South Korea next week.
The Daegu event will be Child's second World Championships, and she is confident she will be able at least to break into the top 12.
"The first goal was to get the qualifying time to go there," she told BBC Scotland.
"Now I can focus on my next goal, to try and get to the final."
The 2009 World Championships were Child's first major tournament and she hopes to improve on her performance.
"In 2009 I finished 16th so I'd like to get in the top 12 and, if possible, that final," she said.
"My coach and I have talked about it and we think a place in the top 12 would be a realistic goal but a good goal for me to get.
"I feel I'm in shape to beat my personal best and I would like to sneak under the 55 seconds barrier; that would be a new Scottish record and I'd be really happy with that."
The Commonwealth silver medallist from Delhi is also part of the 4x400m relay squad and she says she would love half the team to be Scottish if she can make her way into the team alongside 400m specialist Lee McConnell.
"I get on really well with Lee, so it is really nice that there's always going to be a familiar face in the team," she added.
"It would be brilliant to have two Scots in the team. I've no doubts Lee will be in that team but I'll have to go some to make the final team.
"If I can run well I can give myself a good shot."
Ahead of next year's Olympics in London, Child has now become a full-time athlete, having taken a break from her job as a PE teacher.
"I don't need to work now, I can go down and train with the squad in Bath," she said.
"That's the main benefit, as well as having the time to recover."
And looking further down the line, she is targeting a gold medal at the Glasgow 2014 Commonwealth Games.
"If I get a gold in front of my home crowd, that would be an amazing experience," said Child.