Steve Mullings faces lifetime ban after positive drugs test
Last updated on .From the section Athletics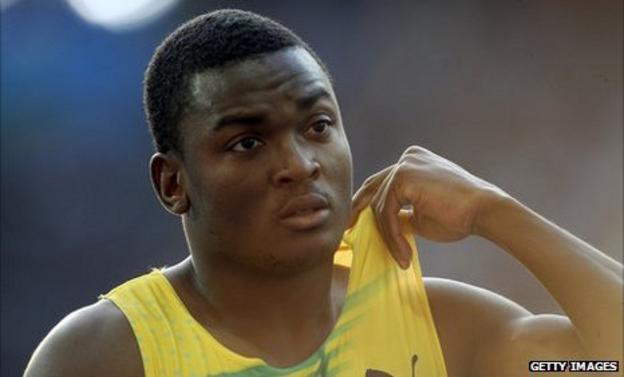 Jamaican sprinter Steve Mullings faces a lifetime ban from athletics after testing positive for the banned substance furosemide.
The 28-year-old is the third fastest man in the world over 100m this year with a time of 9.80 seconds.
He was previously banned for two years in 2004 for excessive testosterone.
"What can I do? I'm going to go in front of the panel and say I never took the drug. But I don't have the proof to say, 'OK, it was vitamins'," he said.
"I've already gone through all my vitamins and there's nothing in there," added Mullings, who tested positive at the Jamaica trials in June and has already been left out of their World Championships squad.
"The people around me know I don't take drugs, but it's going to look bad on me because of 2004. Now it's 2011 they said I was on drugs that I don't even know of."
The Jamaican 200m champion, who won gold in the 4x100m relay at the World Championships in Berlin in 2009, was informed that his B sample was positive on Thursday.
"They say it was in my urine. That drug has to be prescribed," said Mullings.
"What does that drug really do? I really don't know."
Furosemide, which works by blocking sodium from being reabsorbed in the kidneys, is on the World Anti-doping Agency's banned list because it could be used as a masking agent for other drugs.
Mullings has 14 days to formally request a hearing from the Jamaica Anti-doping Disciplinary Panel.
He had been expected to join defending champion Usain Bolt in the 100m and 200m in Daegu, South Korea, and to help Jamaica defend their 4x100m relay title.