World Athletics 2011: Van Commenee wants new 'golden generation'
Last updated on .From the section Athletics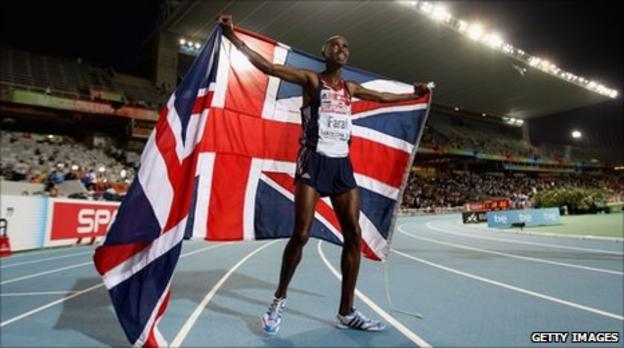 Great Britain coach Charles van Commenee has set his sights on matching the "golden generation" of British athletes who excelled in the 1980s.
Van Commenee, 53, watched as Sebastian Coe and Daley Thompson won golds at the 1984 Olympics in Los Angeles.
"I've always seen that golden era as the benchmark. I want to do better than them," said the Dutchman.
"I've always seen it as a great challenge and if we are able to do that I will feel very proud."
He added: "When I was a young coach, I looked up to British athletes and coaches.
"When I was appointed as British coach, the only reason that motivated me to do it was I felt honoured.
"And I felt honoured because of the performances of the generation of Seb Coe and Daley Thompson."
Great Britain's athletes won 16 medals in Los Angeles, three of them golds, in marked contrast to their return from the Beijing Olympics in 2008, when they managed just four medals.
That disappointing haul prompted van Commenee's appointment as head coach by UK Athletics.
He has set the team a target of seven medals, with at least one gold, at the World Championships beginning in South Korea on Saturday.
In fact, the team are tipped to win three gold medals, which would equal GB's best ever World Championship haul, gained in Germany in 1993.
"Our target is seven. If we achieve that I'm a proud man, a happy man," the coach continued.
"It's a possibility. They're not too far off."
Team captain Christian Malcolm said: "This is the best team I've been in. The team of 2000 was good but they were reaching the end of their careers.
"You have household names now in Mo Farah, Phillips Idowu, Jessica Ennis.
"You have young potential coming through. They're very driven and they seem fearless. I think it's a strong team."
LA Olympics star Coe, who won 1500m gold and 800m silver in 1984, is now chairman of the London 2012 Games organising committee.
And van Commenee stressed the importance for Great Britain of track-and-field medals at a home Olympics.
"Athletics is an important sport in Britain. At the end of the London Games, people will consider it a success or failure based on medals won," he said.
"Winning is important and winning in athletics at the Olympics is even more important than other sports."