World Athletics 2011: Jessica Ennis ready to retain heptathlon title
By Tom Fordyce
Chief sports writer in Daegu, South Korea
Last updated on .From the section Athletics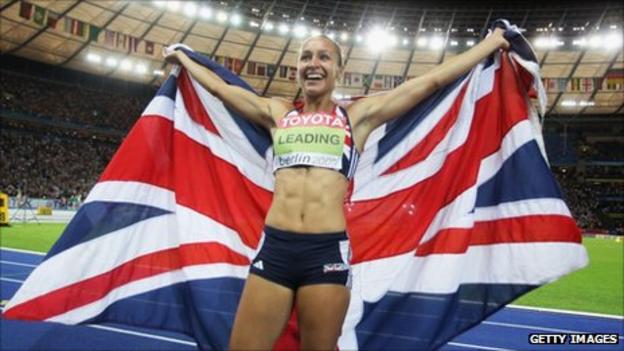 Hepthathlete Jessica Ennis says she is confident she can make history in Daegu by becoming the first British woman to retain a world title.
Her campaign begins on Monday with the 100m hurdles at 0200 BST and the high jump an hour later. Next comes the shot put at 1105 BST, with the first day finishing at 1235 BST with the 200m.
Ennis told BBC Sport: "It's going to be a real challenge and a real battle.
"But if you've done it once, why can't you do it again?"
She added: "I feel I'm in good shape. I'm really happy with the training we did at the holding-camp in Ulsan. It's a nice pressure, and it's a great position to be in."
Ennis comes into the World Championships having produced personal bests in four of her individual events this year, and with all her main rivals left in her wake during her last full heptathlon in Gotzis at the end of May.
Having been crowned world champion in Berlin two summers ago she has produced an overall PB in her other major championship events since, including the decisive win at the European Championships in Barcelona a year ago.
"I'm trying to approach Daegu in the same way as Berlin," she said.
"It doesn't feel too different to be honest, because I was ranked number one in the world going into those championships, and there was already that pressure and expectation - people expecting me to win the gold medal.
"It's a similar position now - while this time I'm aiming to retain my title, I've still got a lot of pressure on me.
"It's great to have been to some big championships now and know what it's all about: how you approach it in the days leading up to your first day; how you're going to feel the night before.
"I have previous experiences to draw on, and the self-belief of my performances at those events too."
Ennis arrived in Daegu late last week and spent Sunday morning at the stadium warm-up track with coach Toni Minichiello.
Rated by some British bookmakers at 11/10 for gold, she is expecting to be pushed all the way by former Olympic champion Nataliyia Dobrynska and Tatyana Chernova, the Russian who took Olympic bronze three years ago and whose strengths mean she is likely to close in on the second day of competition.
Britain has produced six women world champions since the first event in Helsinki in 1983, yet none of the other illustrious five - Fatima Whitbread, Liz McColgan, Sally Gunnell, Paula Radcliffe and Christine Ohuruogu - ever managed to repeat their feat.
Ennis knows she has a wonderful chance to do so.
"I've been keeping it light in training in the last few days," she said. "I've done some drill-work, checked my run-ups for the long jump and high jump, and have also done an 800m time trial - something I always hate - but there's been nothing too heavy.
"Winning the Worlds is one thing, being able to hold onto it is another thing. But I'm trying not to get too caught up in it all, to just keep my head down a little and get on with it."