World Athletics 2011: Jessica Ennis will be back - coach
Last updated on .From the section Athletics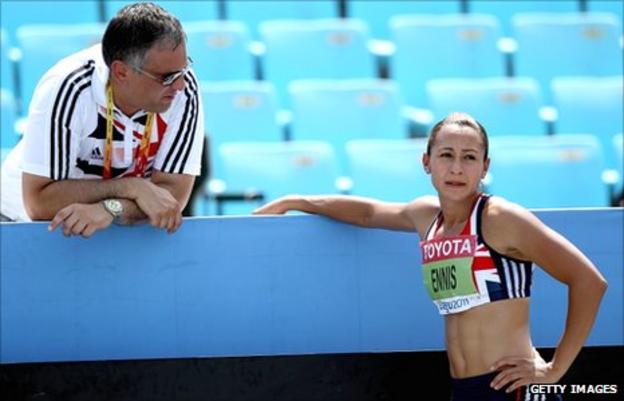 Coach Toni Minichiello insists there are valuable lessons to be learned for Jessica Ennis after she lost her World Championship heptathlon title in Daegu.
Ennis led by 118 points after five events by equalling her personal best in the long jump but ended with silver as Tatyana Chernova won by 129 points.
"There have been some good positives to come out," Minichiello said.
"In reality she beat Chernova in five events, but just got heavily beaten in the javelin. That's the difference."
Minichiello, who was worked with the 25-year-old since she was 11, is confident Ennis will get even better as her focus begins to turn towards the London Olympics next year.
"It's slightly disappointing to come back with a silver medal and not a gold," he admitted. "When you're world number one you'd hope that you'd retain that kind of performance at championships like this, but it is still a good learning opportunity.
"The long jump looks really good and I think there's a bit more to come. The shot put I wasn't really expecting so that's a pleasant surprise. Her flat speed I am happy with and an 800m which shows she can run.
"I don't think it will take her a long time to get over this. After the javelin and having that long period to think about it, I think she proved she's over it by going out hard in the 800m. I think she's over it now to be honest."
Indeed Ennis was in optimistic mood as she spoke to reporters, saying: "I don't want to walk away from it and analyse it too much.
"I don't think it's something I'm going to dwell on and mull over, I think it was just one of those days where it just didn't come together.
"I think the event is always going to improve year upon year. It was a brilliant score by Chernova, she performed really well. I think I performed well, I've had some solid performances, some PBs [personal bests], so I can take positives away from that and work on the javelin.
"I've got to make sure I improve the areas I need to improve and make sure it's a gold next year. It was always going to be tough this year, it's going to be even tougher next year, but I'm just going to make sure I'm stronger and better next year to make sure I get that gold medal."
The javelin proved to be the expensive discipline for Ennis, with her throw of 39.95m exactly 13m down on Chernova.
"In the warm-up for the javelin she threw one about 45m and you're like, 'It was fine a minute ago'," Minichiello observed.
"She slipped a little bit on the runway on the first run - that maybe upset her for the second one - then the third one she really went for it but just didn't time it right and missed it completely."
Triple Olympic javelin medallist Steve Backley is also confident Ennis will respond positively from the disappointment of her performance in the javelin.
"It's probably good that it's happened here because she is a champion. She will come back stronger than than and it probably makes her have a better chance of taking gold in 2012," he said.
"The javelin is not more important than the other six events by any means but it seems to be the one that can catch a heptathlete out.
"It cost Kelly Sotherton medals and it has cost Jess Ennis a gold medal.
"She could have maybe had a short-approach throw then another two attempts from a longer run but I'm not going to criticise her for going from the back because that shows her intent, her confidence and that's what it takes to be a champion."