Christian Malcolm motivated for Daegu by 'missed' medals
By Tom Fordyce
Chief sports writer in Daegu, South Korea
Last updated on .From the section Athletics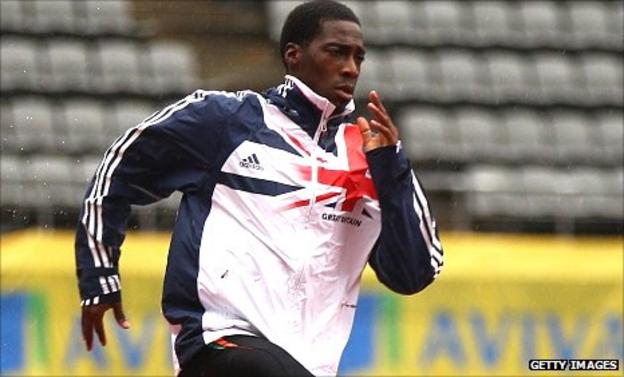 British team captain Christian Malcolm is refusing to let the ghosts of past World Championships haunt him as he once again prepares to take on the world's best.
Malcolm, 32, begins his 200m quest against Usain Bolt and Walter Dix on Friday, but his thoughts have turned back to his first Worlds 10 years ago.
Malcolm looked a certainty for a podium finish in Edmonton after producing personal bests in every round, only to fall short in a final won by controversial Greek sprinter Kostas Kenteris.
Malcolm told BBC Sport: "What can I do about it? Whether Kenteris cheated or not I don't know. If he hadn't been there I would have won medals at lots of big championships during that period, and Darren Campbell would have been Olympic 200m champion.
"But I believe things happen for a reason. I don't look back with what if, or lie awake thinking about it.
"You've got to move on. I use it to fuel my fire. Maybe it would have changed me in other ways - maybe I would have been complacent if I had become world champion, and not had the long career I've had, or had the opportunity to compete in London next year."
Malcolm finished fifth in that 200m final in Edmonton, running 20.22 seconds after clocking 20.13 secs in the heats and 20.08 secs in the semi-finals.
In an injury-hit career since he has never quite touched those heights again, although he did win European silver behind Christophe Lemaitre last summer and only missed out on a place in GB's Olympic gold medal-winning 4x100m team after being hit by a kidney infection just before the Games.
"If the World semi-final had been on the same day as the final, I think I might have been okay," he says. "But that extra day made a big difference. I woke up sore, and it was just too much.
"I wish I hadn't had those kidney problems in Athens before the Olympics. I was in hospital for four days. But I've been to five world championships and three Olympics, and that's not bad. It would have been nice to get an individual medal, but we'll see."
What would today's wise old owl say to the 22-year-old Malcolm if he could travel back in time to 2001?
"Don't do the 100m. It's going to hurt you. And even if you get a PB, it's not worth it - it's going to cost you a medal, a gold medal."
Malcolm's captain's speech to his team-mates before these championships was rated by those who saw it as one of the best ever, with a standing ovation following.
"I've been cracking that whip," he jokes. "I don't feel old. I keep telling everyone that. But when I look around, all the people I used to compete against have gone. So maybe I am the older statesman.
"Compared to 2001, my diet is different, my preparation is different, I listen to my body more.
"I know I'll have to go out there on Friday and perform well. It will be hard - I think it will take 20.10 secs to make the final. But I've done it before, and the performance at the GB trials gave me a lot of confidence."
Malcolm was taken off Lottery funding in 2009. At that point he admits he considered retirement, as much for financial reasons as sporting ones.
"I never fell out of love with the sport," he says. "When I do finish, at least they'll be able to look back and say, 'he showed a bit of fight'.
"The one thing they won't say about me is that I was a quitter."