World Athletics 2011: Ireland trio qualify for finals
Last updated on .From the section Athletics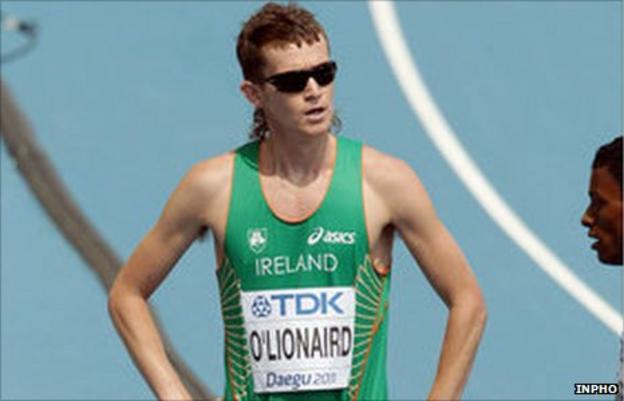 Ireland enjoyed a highly successful day six of the World Championships in Daegu as Deirdre Ryan, Alistair Cragg and Ciaran O'Lionaird all qualified for their respective finals.
Ryan set a new Irish record of 1.95 metres to reach Saturday's high jump final, matching the automatic qualifying height on her second jump.
Cragg reached Sunday's 5000m final after finishing fifth in his heat.
O'Lionaird reached Saturday's 1500m final as a fastest loser.
Ryan had first-time clearances at 1.80, 1.85 and 1.89m, but was on the verge of going out of the competition before clearing 1.92m with her final attempt.
"I'm delighted, really ecstatic," said Ryan.
"It's a national record and also an 'A' standard for the Olympics.
"I'm really happy with the way I jumped and I'm looking forward to the final."
Cragg qualified from the second heat, having contributed to the pacemaking for much of the race.
"I just wanted to make it honest enough to ensure that if I didn't make the top five I would still get in (as a fastest loser)," Cragg siad.
"I kept myself in the top five most of the way and that's all I was running for.
"It was a walk in the park for the first 12 laps but in the last 200m I tightened up a bit from the heat."
In the evening session, O'Lionaird benefitted from a much quicker second semi-final to reach Saturday's 1500m final as a fastest loser, finishing sixth in three minutes 36.96 seconds, almost 10 seconds faster than the winner of the first semi.