World Athletics 2011: Oscar Pistorius wins relay silver
By Martin Gough
BBC Sport in Daegu
Last updated on .From the section Athletics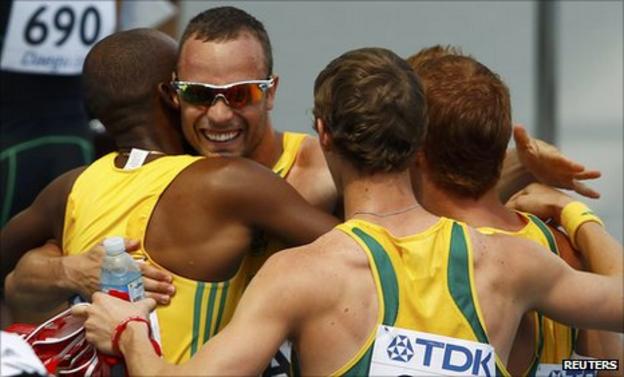 Oscar Pistorius won a World Championship silver medal without taking part in the 4x400m relay final.
He became the first Paralympian to win an able-bodied world championship medal as all athletes who compete in the heats are eligible to win medals.
South Africa finished behind the United States, recording a time slower than in their heat, when Pistorius took part.
Double amputee Pistorius - who reached the semis of the individual 400m - helped the team qualify third-fastest.
Before the race he had revealed on Twitter: "Haven't been included in final. Pretty gutted."
But afterwards he added: "Well done to the SA 4x400m team. Was really hard watching, knowing I deserved to be part of it."
South African team manager Magda Botha told BBC Sport that they simply selected the 'four best athletes' for the relay event.
He said: "Our main focus is to get medals and, based on the facts we received about split times, we decided that LJ van Zyl [who won bronze in the 400m hurdles on Thursday], will run and Oscar will be out."
Van Zyl defended the decision after the final: "We had the agreement before the first round that the slowest guy in the heats on the splits is not going to run the final and I'm going to take his place.
"I've always run the last leg for the last six years. Unfortunately Oscar's split was a 46.2 and he was the unlucky one who had to sit out.
"He's also going to get a medal and I think he's going to be very, very happy. He's only allowed to run the first leg in the relay and he's not the fastest guy out of the blocks. It was a decision by the management and everyone in the team was happy."
Athletics South Africa confirmed they had no choice but to select their four runners in the heats, as both Van Zyl and Cornel Fredericks were involved in the 400m hurdles final.
Botha added: "There were six possibilities and the team management must make the decision to select four for the heats and four for the final.
"Whether it's Oscar or other athletes it will always be a disappointment."
Pistorius was restricted to running only on the first leg of the relay for safety reasons, a decision which Botha confirmed was the decision of Athletics South Africa, not the IAAF.
Asked if their decision may have been different had Pistorius been able to run at any stage, Botha replied: "Maybe, but it would be dangerous and that's what we want to prevent. We don't want him to be injured."
Pistorius's coach Ampie Louw was part of the meeting in which the decision was made, but told BBC World Service he did not understand the move and that it was "very strange".