London to compete with Doha for 2017 World Championships
Last updated on .From the section Athletics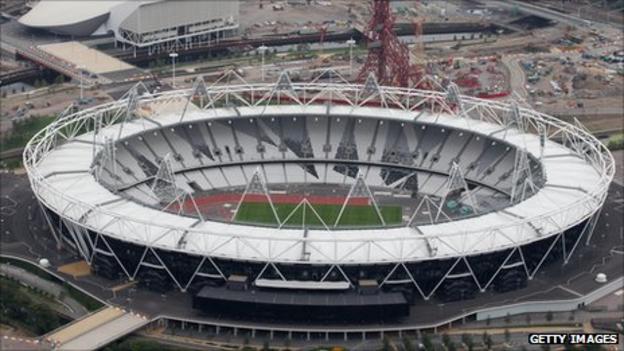 London and Doha, the capital of Qatar, will go head to head for the right to host the 2017 World Athletics Championships after Barcelona withdrew from the race.
Barcelona was nominated as Spain's candidate less than two weeks ago.
"There are only two candidates, London and Doha," confirmed IAAF president Lamine Diack ahead of the final evening at the 2012 championships in Daegu.
The host city will be announced in Monaco on 11 November.
The decision of Barcelona, which hosted the 1992 Olympics, to withdraw is a boost for London's chances, as it will mean the European vote should not be split.
Diack said the IAAF would consider a request from Doha for the 2017 championships to be held later in the year because of the intense heat of the Qatari summer.
"It is possible that the date can vary," Diack said, noting there was no firm rule that the championships must be held in August.
"For the World Championships, it is possible to move dates, the last half of September is something I have nothing against," he said.
London's chances depend on an athletics track being maintained at the Olympic Stadium after the 2012 Games.
"If they have no stadium, they have no chance," Diack confirmed.
The Olympic Park Legacy Company (OPLC) has awarded the stadium to West Ham United after London 2012, with the London club committed to retaining the running track.
But fellow Premier League side Tottenham Hotspur and League One outfit Leyton Orient have been granted a judicial review into the decision.
It is scheduled to be heard in the High Court in London on 18 October, only three weeks before the IAAF ruling council is due to choose the host city.
This year's championships end on Sunday in Daegu, South Korea, with Moscow and Beijing set to host in 2013 and 2015 respectively.