Diamond League: Yohan Blake eyes Asafa Powell clash in Zurich
Last updated on .From the section Athletics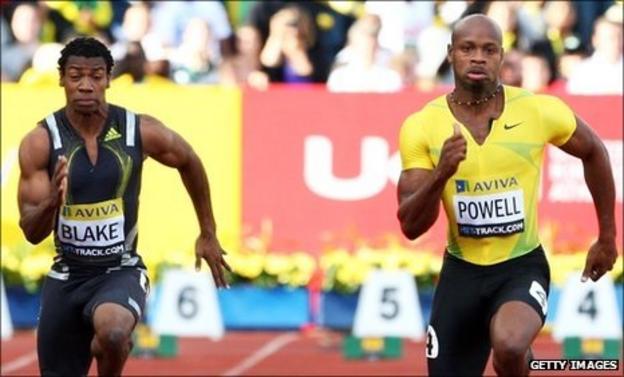 New world 100m champion Yohan Blake is keen to show Jamaican rival Asafa Powell his true worth at Thursday's Diamond League finals meet in Zurich.
But Blake told BBC Sport: "He called me a boy but I'm running like a big man. It will be interesting [in Zurich]."
Powell says there is a good chance he would be world champion, had he raced.
Blake's compatriot Usain Bolt - the 100m and 200m world record holder - skips Thursday's event, known as the Weltklasse, giving the new champion centre stage for his first race since the pair helped Jamaica set a new 4x100m relay world record in South Korea.
Though Powell acknowledges Blake's achievement, he cannot stop thinking about what might have been had he not suffered a hip flexor problem - more so given he ran a year's best 9.78 seconds in June.
Powell told the BBC World Service: "Going into Daegu I was the man to beat, I was the man with the fastest time in the world this year.
"To not be able to run, I was very very disappointed.
"It was difficult to take because I won the Jamaican trials quite comfortably, quite easily. To know the same guys I finished in front of went and got the gold medal, it made me look at things and think, 'If I was there I might be world champion'.
"I always ask, 'Why me? Why does this keep happening over and over?'... [But] I'm very strong. It gives me a lot more motivation for the 2012 Olympics in London - and a lot more rest."
While injury-plagued Powell bemoaned his fate, Blake was lucky after the disqualification of dominant Bolt for false-starting was seen to have paved the way for his shock victory.
"Life has been good," Blake said on Wednesday.
"I can hardly walk some places but it's a wonderful feeling. I've been dreaming for this my whole life. I'm learning how to deal with it now.
"Things have changed for me. I have come to reality now that I am the world champion. It's not difficult to motivate myself, I've been running with these guys a lot. I know what I'm up against I want to execute a perfect race and stay number one."
Powell needs to run in the seventh and final 100m of the Diamond League season to qualify for his victory in the season-long standings.
The Zurich event has attracted the holders of 19 world championship gold medals, 18 silvers, and 15 bronzes from Daegu.