Christian Malcolm calls for false-start rule change
Last updated on .From the section Athletics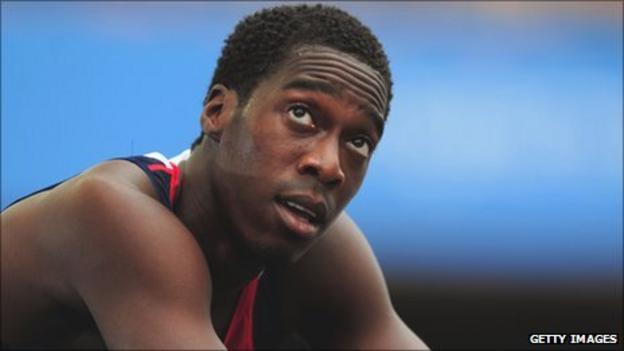 Christian Malcolm has called for a change to the false-start rule that cost Usain Bolt a potential 100m gold medal at the World Championships.
The rule - which sees any athlete making a false start disqualified - is too harsh, according to Malcolm.
Dwain Chambers and Christine Ohuruogu also fell foul of the rule in Daegu.
"There was nothing wrong with the rule they had before where it was one false start and then anyone would be disqualified after that," said Malcolm.
"It's tough now. It showed at the World Championships that someone like Usain Bolt can make mistakes.
"It's not what you want. You don't want the best athlete - some say the best ever athlete - to miss out through disqualification."
Any change to the rule before the 2012 Olympic Games in London seems unlikely after athletics' governing body, the IAAF, said it had no plans to review the issue.
But Malcolm has joined a growing group of athletes to urge a re-think, although Olympic champion Bolt accepted his fate in Daegu as "a lesson".
The new rule, implemented in 2010, leaves athletes with no second chance should they set off before the starting pistol fires.
It was introduced to eliminate any potential gamesmanship by athletes deliberately false-starting to increase the pressure on the rest of the field.
But 100m and 200m runner Malcolm said he has never encountered such tactics during his 10 years at the top level.
"If someone wants to play mind games, then they might make a mistake themselves," said the 32-year-old, Britian's team captain in Daegu.
"I just think in this case, everyone deserves a second chance. Having that one false start which then puts the whole field on a warning is the best way of going about it."
Malcolm was among several British athletes to disappoint in Daegu as he failed to progress from the semi-finals in the 200m.
The Cardiff sprinter said his preparations had concentrated too heavily on building up his speed over 100m and "neglected" the conditioning needed for the 200m.
"This is the year for experimenting to get it right for the Olympic Games," he said.
"Mistakes have been made and I intend to rectify that for next year."
No such errors were made by Dai Greene, though, as the Welshman added a World Championship gold medal to his European and Commonwealth 400m hurdles titles.
Malcolm said Greene's achievement should be the blueprint for all aspiring athletes to follow.
"I could see that Dai had a fire about him, but I'll be honest, I never expected him to achieve the standards he has," he said.
"But I'm really proud of him. He's a really humble guy and he deserves everything he gets.
"Dai's really set the standard. He's proved that if you really believe in yourself and you actually go out there and work and train hard then you can achieve your dreams and goals."