Lincolnshire Paralympians set London 2012 goal
By Emily Clark
BBC Lincolnshire Kick Off reporter
Last updated on .From the section Athletics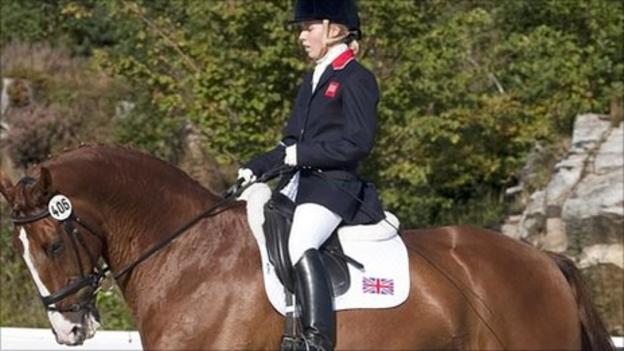 With the biggest-ever Paralympic Games less than a year away in London, hopes are high among Lincolnshire athletes that they can claim place in the Great Britain squad.
They are aiming to be competing alongside more than 4,200 athletes at the games.
Sophie Wells
Sophie, 22, is the reigning European and World Para-dressage champion. In 2010 she became the first para-equastrian rider to be selected for an able-bodied team.
She was born with amniotic band syndrome, which affects the development of her hands and ankles.
In 2005, Sophie was awarded a place on the Talented Athlete Scholarship Scheme (TASS) which aims to give world-class support to elite athletes with the potential to succeed at London 2012.
"London 2012 was my long-term aim and now it's just around the corner," she said. "With the Paralympics being only a year away it makes you realize just how close it is and how important every day training is.
"We only get one opportunity to compete at a home games and get the support we're getting.
"Everything I do every day is towards that ultimate goal. It's important we prepare ourselves to be in the best shape possible for next year."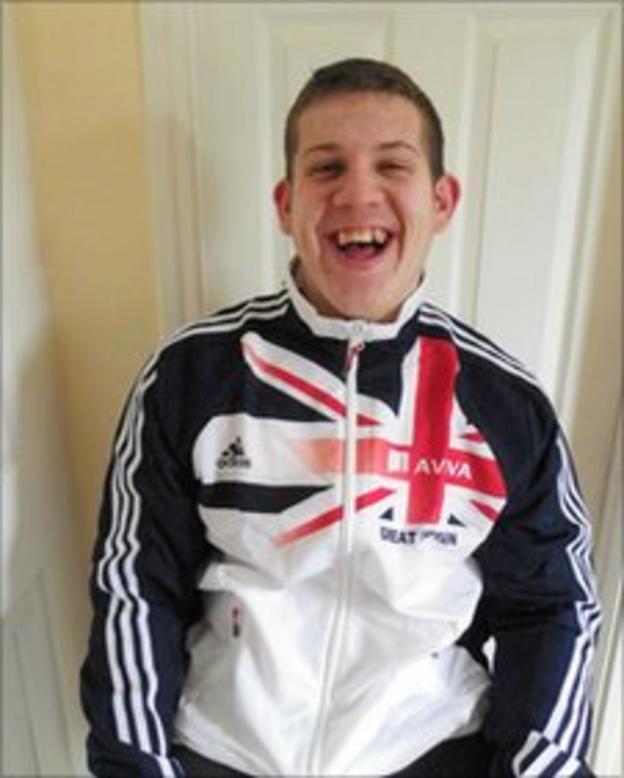 Kieran Tscherniawsky
Seated discus athlete Kieran, 18, recently broke the European record, despite having only competed in the event for a few years.
Kieran, from Sleaford, has thrown 29m, which is only 1.6m off the world record.
'I've been working so hard. It's a six days a week programme but that's what you need to become a top athlete," said Kieran, who was born with cerebral palsy.
"It's an honour really to just be there, let alone if I win.
"If I was to win I would be so over the moon and so happy because I never thought when I was a little boy that I was going to make the Paralympics."
Kieran's grandmother, Molly Burrows, says she realised when Kieran was 11 that he was not going to be able to compete in able-bodied competitions and began searching for opportunities in disability sport within Lincolnshire.
"We've always told Kieran there isn't anything he can't do, he just sometimes has to do it in a different way.
"He works so hard, as hard as any able-bodied athlete."
With his recent success, Kieran is confident he can set a new world-record at London 2012.
''I would love to get a gold medal under my belt, because people will say 'That's the boy that I knew at school, that's the boy that trains in the gym'. It would just be such an honour for me."
Andy Skinner
Father-of-two Andy, from Skellingthorpe, was involved in a motorbike accident in 2006 which led to him having his left leg amputated just above the knee.
"When I became an amputee, I 'googled' disabled sport and sent an e-mail to Team GB telling them what I was capable of. They told me to come to a talent ID day and I found I was a semi-natural at seated volleyball," said Andy.
He has represented Great Britain since 2007 and says it would be an honour to compete at London 2012.
"Just to wear my GB top at any Paralympic Games is brilliant, but at a home games with all my family and friends coming to watch would be amazing.
"We train harder, we play harder and it's a much more exciting event to watch than the able-bodied event.
"If I had to live it all again I would, because otherwise I wouldn't be in the position I am with the Paralympics or have made the friends I have."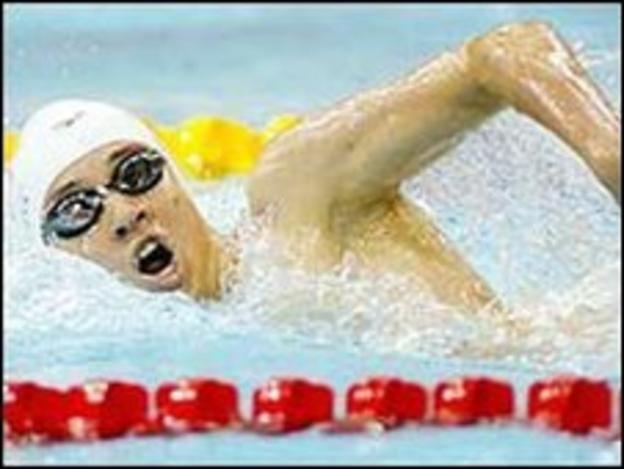 Rob Welbourn
Rob, 24, from Market Deeping, has previous experience of competing in a Paralympic Games having won gold and silver medals in Athens in 2004 and four years later in Beijing.
The former Lincoln Vulcans swimmer, who is now based in Swansea, delayed his plans of retirement from swimming when it was announced that London would host the 2012 Paralympics.
Earlier this year Rob, who competes in the S10 class, made nine podium finishes at the IPC European Championships, which included three gold medals.
He says his training routine is no less strict than any able-bodied swimmer.
"I get up at five in the morning, have a quick bite to eat and then go down to the pool and do about 6,000 metres. I'll then come home, have a bit of a rest and probably go to the gym for an hour and then in the afternoon I'm back in the pool for another 6,000m.
"Over the winter I'll be working harder than I've ever worked before to make sure I'm in best possible shape for next year."