Wells fears for paucity of Scottish Olympic track stars
By Kheredine Idessane
BBC Scotland
Last updated on .From the section Athletics
Allan Wells, Scotland's fastest ever man, is worried the country might have only a couple of track athletes at the 2012 London Olympics.
The Moscow 100m champion fears a repeat of this year's World Championships in Daegu where only Eilidh Child and Lee McConnell competed on the track.
He says Scottish Athletics has "a long way to go" when it comes to producing elite athletes.
But he was full of praise for the body's new Street Sprint programme.
The project, which Wells helped to launch at Liberton High, his old school in Edinburgh, offers teenagers a chance to get involved in athletics in the evenings and at weekends.
It is funded by the Scottish Government from cash recouped from the proceeds of crime.
Asked about the paucity of Scottish track athletes likely to feature in the British Olympic team next year, Wells said: "It concerns me as a Scots person.
"What we are doing today is trying to give Scottish athletics a higher level of attention in the public eye in Scotland. From that we can achieve.
"I think for 2012 we are probably looking at two people in the British team. I think that's all we can hope for.
"There should be more, I'd hope there would be more.
"In my days we probably had 12-15 people in the British team at different times. It would be good if we can add to the two people who were in the British team this year in the World Championships."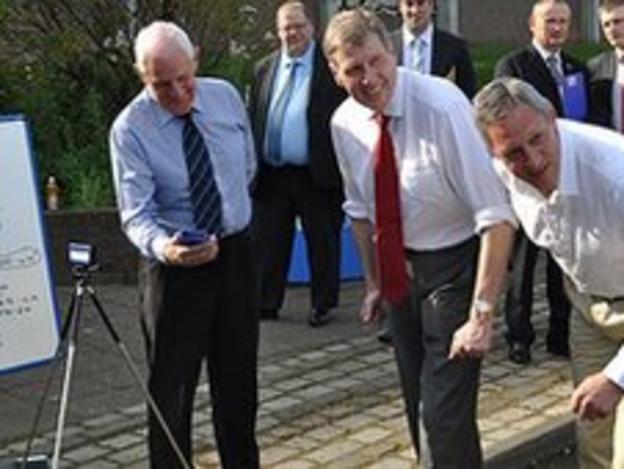 Only four Scots were in the British team in Daegu - marathon runners Andrew Lemoncello and Susan Partridge, and Child and McConnell who compete in the 400m and 400m hurdles.
Wells still holds the Scottish 100m and 200m records and hopes that the Street Sprint programme can produce a new generation of athletes who could challenge his long-standing record times.
"The CashBack Street Sprint programme is a fantastic project that will take athletics, and in particular, sprinting to young people in local communities across Scotland who would not normally have the opportunity to participate," he said.
"Not only will the project divert young people away from crime and anti-social activity, but this is a great chance for them to become involved in athletics."
Wells hopes the programme will produce some talent in the run-up to the Glasgow 2014 Commonwealth Games and beyond.
"I think it is the best initiative that I have come across in all the years that I have been involved in athletics," he added.
"Maybe in 2016 we'll see people who came up through this programme."