Shona Crombie-Hicks smashes Jersey Marathon record
Last updated on .From the section Athletics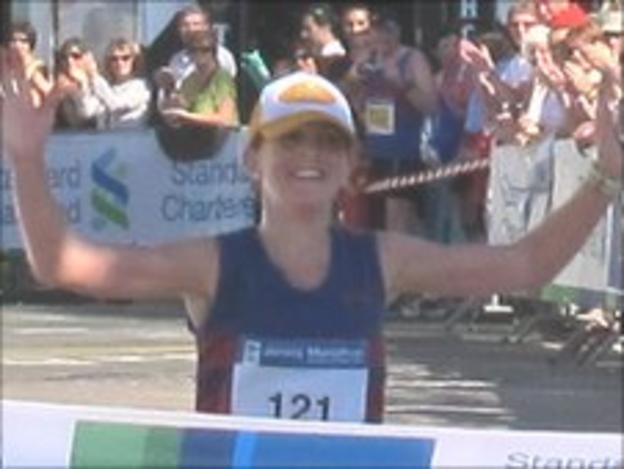 Scottish runner Shona Crombie-Hicks smashed the women's course record to win the 2011 Jersey Marathon in scorching conditions.
She crossed the line in two hours 53 minutes and 36 seconds, beating the previous record set by Clare Forbes last year by nearly four minutes.
In the men's race Jethro Lennox set the early pace and stayed ahead of the field to win in 2:32:05.
Mike Smith finished in second place, for the second year in a row.
Crombie-Hicks told BBC Radio Jersey: "Through the shaded areas it was fantastic, it's a very good course.
"I hoped to do OK but you never know on the day, we'll be celebrating tonight."
It was the hottest October weekend ever recorded in the island causing difficult conditions for the hundreds of runners.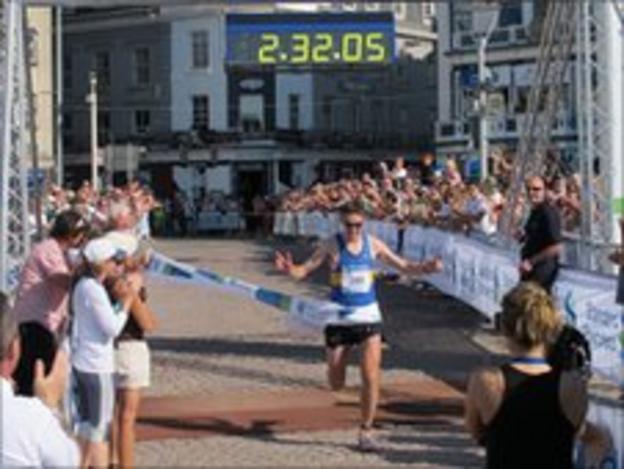 Extra supplies of water were provided this year.
Lennox, who has a wife from Jersey and is a regular visitor to the island, said: "I knew that I had a good chance so I thought I'd settle into a rhythm.
"Mike Smith was still on my tail and I could tell he was just there and wasn't making my life easy.
"I knew it wouldn't be a fast time in this heat but fortunately a lot of the race was under shade."
Finley Wright from Hautlieu School in Jersey won the 3k Fun Run, while the Spartans were first across the line in the relay.