Athletics authorities praise London 2017 Worlds bid
Last updated on .From the section Athletics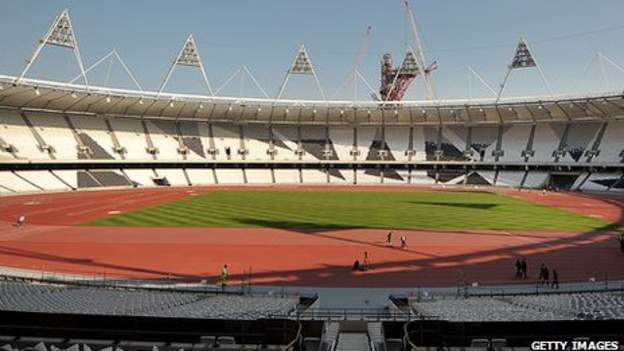 World athletics officials have praised London's bid to host the 2017 World Championships after visiting the city.
After a two-day stay in the UK, an evaluation commission from world governing body the IAAF will now visit London's only competitor, Doha.
"The city sells itself. It is one that I have always enjoyed being in," said IAAF senior vice-president Bob Hersh.
"The stadium is world-class and we're pleased with the passion and commitment of the people involved in this bid."
London was due to host the 2005 World Championships at a proposed new stadium in Picketts Lock, Edmonton, but pulled out in 2001 after the project was deemed too expensive.
However, the subsequent successful bid for the 2012 Olympics has now provided a suitable venue.
Hersh continued: "It is obviously something that has generated a lot of enthusiasm and I think UK Athletics have shown they are capable of holding a successful World Championships.
"The World Championships are different to the Olympic Games as they involve different elements."
"But one of the things they have stressed - and that we understand - is that the Olympic Games and other athletics championships that have been held in London and the UK demonstrate the capacity of the country, the city and the organisers to hold a successful event."
Lord Coe, who is a council member of the evaluating commission, has also heaped praise on the bid which has "strong advantages" and believes London 2012 Olympic ticket sales prove there is huge interest in track and field in the UK.
"We know from our recent Olympic ticket sales that there is a thirst for world-class sport in this country, in this city," Coe said.
"We are focusing entirely on the strong advantages of bringing the World Athletics Championships to London it's for my council colleagues to decide.
"We want them here. We see that as being an essential part of an extraordinary decade of sport."
UK Athletics chairman Ed Warner also believes Doha's bid may have some issues - handing more advantage to London's bid.
Speaking about Doha, Warner said he was sure that London's rivals for the 2017 championships would have an outstanding technical bid.
But he added that the one difficulty Doha faced was that because of its extremely hot summers it wanted to delay the event.
"Normally these championships are held in August, which is when athletes reach their peak, [and] outside of the football season - which is great for broadcasters," Warner told the BBC.
Pushing the World Championships into September would, said Warner, prove a "real challenge" for Doha and the IAAF.
Tottenham are seeking a judicial review of the decision to hand it to West Ham after the London 2012 Olympics, which will be heard on 18 October.
However, sports minister Hugh Robertson believes it is pointless after Tottenham chairman Daniel Levy revealed his intention to remain in north London.
The inspectors were handed a "cast-iron guarantee" by the government that the running track will remain in place regardless of the court decision.
"I think the point about the Tottenham legal action is that ultimately now it is completely pointless because their chairman has come out and made a commitment - and I congratulate him for that - to stay and redevelop in Tottenham," Robertson said.
"He made that commitment in the wake of the travels last summer so there is really no point trying to judicially review this stadium any more."
Hersh added: "We've been given good assurances by that regardless of how the judicial review hearing turns out on 18 October that the process will end up with a track at that stadium.
"We believe that this distraction, this issue that has been with us for a number of years now, I think it has now been resolved."