Kielder Marathon disqualification angers Rob Sloan
Last updated on .From the section Athletics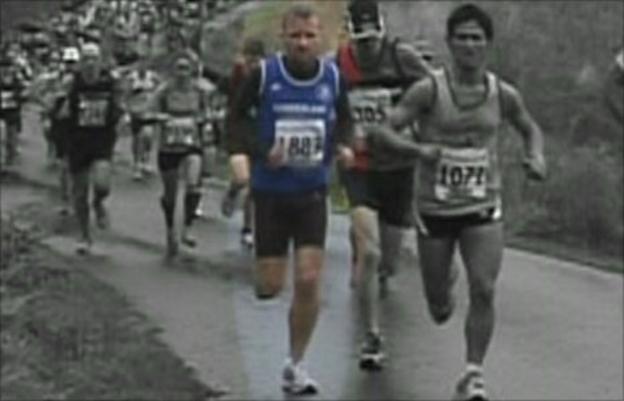 Sunderland runner Rob Sloan says he is "upset and angry" after he was disqualified following a third-place finish in Sunday's Kielder Marathon.
The club runner, who won Saturday's 10km race, revealed allegations he diverted from the race route were behind his disqualification.
"I'm upset and angry that someone wants to cast these aspersions," Sloan told the BBC.
"It's laughable is what it is, where they've come from I don't know."
Sloan added: "When I finished the race I was asked by the fourth person in the race: 'Did you come third, because I don't remember you passing us.'
"My words to him were 'Yeah, I passed you at approximately 18 miles on the damp', I remember because you don't pass many people being near the front.
"Then I thought nothing more of it whatsoever until I heard these allegations, and yesterday I was a bit shellshocked, today it's more anger at being disqualified for something you've trained so hard for."
The marathon organisers have told the BBC that they are currently investigating witness statements regarding the allegations.
"We've got these accusations that we're still trying to get to the bottom of the whole thing," former Olympic medallist and organiser Steve Cram told BBC Newcastle.
"We're in the process of getting news back from the bus drivers we had, we had 12 buses used to ferry athletes and spectators, we're still trying to get hold of and speak to all of their drivers.
"We're waiting for information coming back from there as to whether anyone can corroborate the story from the eyewitnesses who were on the bus and thought one of the competitors got on the bus and then depart again before they got to Leaplish."
Sloan believes he can prove his completion of the race was valid.
"I've got my Garmin Forerunner watch, which was on me at all times, and is GPS-tracked.
"Then backed up with the chip timings, which you pass at certain given points throughout the race, and if you miss one of those chip timings you're instantly disqualified from the race regardless.
"All the chip timings are there in place on the website for everyone to see."
However when interviewed on Monday evening, Cram said the organisers were still attempting to establish contact with the runner to verify his story.
"We've tried to get back in contact with Mr Sloan to say that if he has the evidence on his Garmin that would be helpful," Cram added.
"At the moment we have not had any evidence to be able to corroborate his story, that is not to say he could not be correct of course."