Dan Robinson rules out competing at London 2012
Last updated on .From the section Athletics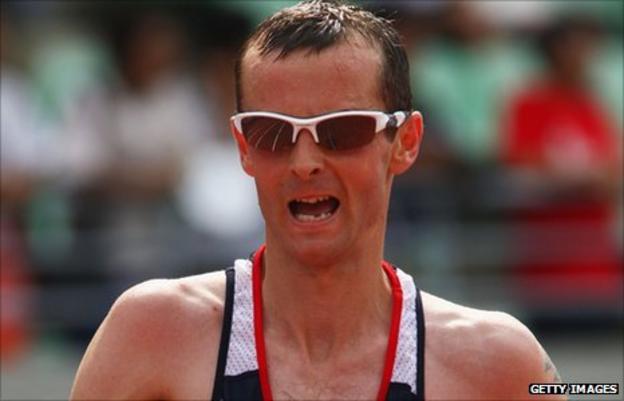 Dan Robinson has revealed he will not be attempting to qualify for the Olympics in London next year.
The 36-year-old marathon runner, from Stroud, competed at the 2004 Games in Greece and in Beijing 2008, placing 23rd and 24th respectively.
"I seem to have fallen out of love with it," he told BBC Gloucestershire.
"I've got a young family and other priorities and without that hunger and determination I wouldn't get there so I think a break is what I need."
He added: "It's tinged with regret as it's a fantastic opportunity to compete next year."
Robinson's break came in 2004 when he claimed a personal best two hours 13 minutes and 53 seconds in the London Marathon to seal a place in the British team in Athens.
Two years later he claimed bronze at the Commonwealth Games in Australia and has competed at two World Championships, one European Championships along with his appearance at Beijing.
Robinson's last marathon was in Brighton earlier this year where he notched 2:19:11 - seven minutes off the qualifying standard for the Olympics.
"I haven't run for six weeks and I haven't missed it," he continued. "If I can't get motivated to run at my home Olympics I'm not going to do it.
"I've been training 100 miles a week for 11 years and the old body is creaking a bit. It's tough staying healthy and injury free and I haven't been my best for the past 18 months.
"I'm probably past my peak anyway. With endurance running it has to come from within and it's the hunger that's not quite there.
"I'm a good runner, not a great runner so for someone with my ability, if someone said I could run in two Olympics and get a bronze medal at a Commonwealth games, I'd take their hand off.
"I'll always run, I love running and I wouldn't even rule out a comeback but I've achieved much more than I thought I would so I'm totally fine with it. I can't wait to go and watch and cheer on the guys next year."