Jemma Simpson to appeal against UK Athletics funding cut
Last updated on .From the section Athletics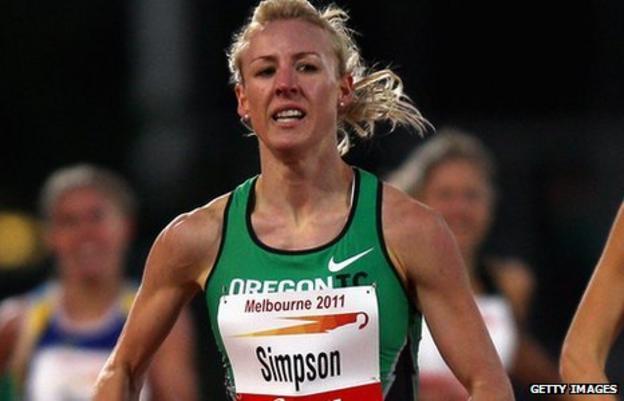 Cornish 800m runner Jemma Simpson says she will appeal against UK Athletics' decision to take away her funding.
The 27-year-old made the semi-finals of the 2007 and 2009 World Championships, ran at the Beijing Olympics and raced at the last two Commonwealth Games.
But after injury hampered her year she has had her lottery funding removed.
"I've written a letter of appeal stating my case and tried to base it on hard facts rather than opinion based evidence," she told BBC Radio Cornwall.
"I've put all my points forward and I'm trying to be reinstated.
"But their rules are that they can only support three athletes per event on podium level funding and they've chosen three people ahead of me so the chances are highly unlikely," she added.
UK Athletics has decided to give funding to Marilyn Okoro, Jenny Meadows and Emma Jackson.
"I do feel like I've got a better chance of making the final than two of the others that they've supported instead of me.
"Over the past couple of years I've competed to a higher standard than both of them.
"This is my first year of being injured and suddenly I'm dropped and they're put on instead of me," she said.
And ahead of the London Olympics, Simpson says the decision has devastated her.
"I feel that just as I am entering the years of my life where I've developed enough to start performing they've dropped me at the last minute.
"You train all your life for this point, to be the pinnacle, and they decide and take your career into their hands and decide your fate for you," she said.
But despite the setback she says she will still be aiming for London 2012.
"It is a blow, but I'm still going to train, I can still keep running, I can still do everything," she said.
"It's not going to stop me from trying to get to where I want to be."