Kelly Sotherton makes bid for London 2012 heptathlon place
Last updated on .From the section Athletics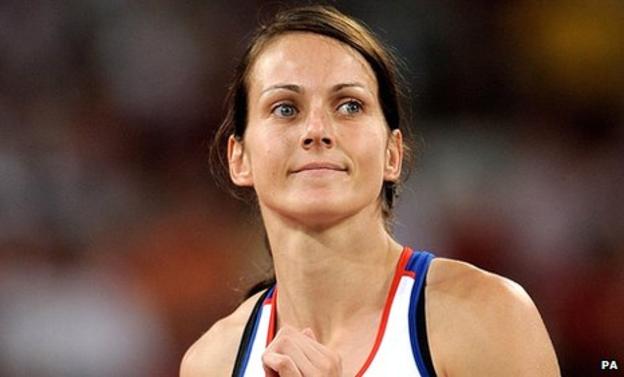 Former Olympic bronze medallist Kelly Sotherton is to return to heptathlon and hopes to compete at London 2012.
The 34-year-old, who came third in Athens in 2004, has concentrated on the 400m hurdles since November 2010.
She failed to qualify for the World Championships and has since lost her lottery funding, but began training for multi-eventing again four weeks ago.
"I am motivated more and I'm enjoying the fact I could be at the Olympics in the heptathlon," she told Sky Sports.
"It has rejuvenated my feelings for the sport."
Sotherton later said on her Twitter account: "I've had to keep my gob shut for over 2 months about this! So it's a relief it's out! #heptathlon"
Since ending her hepathlon career, Sotherton has been supplanted as British number one by Jessica Ennis and she has previously said that, at her best, she could have run the 2009 world champion from Sheffield close.
Sotherton admits that she does not expect to challenge Ennis on her comeback.
"I don't think I'm going to be rivalling her as I possibly could have been a few years ago. I know where my limits lie, I'm not striving for a gold medal," she added.
The Olympic 'A' qualifying standard is 6,150 points, comfortably below Sotherton's 2005 personal best of 6,547.
She scored 6,517 in her last heptathlon in 2008 before heel and back injuries forced her withdrawal from the multi-discipline event.