Jemma Simpson fails in lottery funding cut appeal
Last updated on .From the section Athletics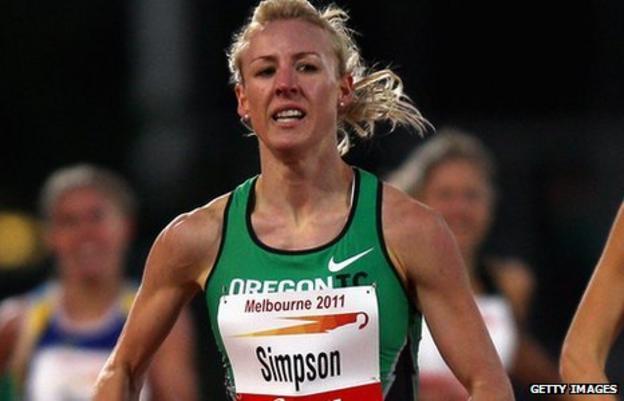 Cornish runner Jemma Simpson has lost her appeal against her funding cut.
Simpson, 27, after an injury-hit season.
A panel including UK Athletics head coach Charles van Commenee rejected Simpson's appeal.
"He said that before the decision was made to exit me from funding, the panel revisited my case a number of times," Newquay and Par runner Simpson said in an email to BBC Radio Cornwall.
"It ultimately came down to opinion, the panel took a vote and it went against me."
It means Simpson will not be lottery funded as she aims to earn a place in the Great Britain team for next year's Olympics in London.
UK Athletics decided to give funding to Marilyn Okoro, Jenny Meadows and Emma Jackson rather than Simpson.
The Cornish runner represented Great Britain at the Beijing Olympics in 2008 as well as the 2007 and 2009 World Championships.
Injury hampered her 2011 season but Simpson feels that her performances in previous years were not properly taken into account.
"In my appeal I mentioned my world merit rankings being in the top 10 in 2009 and 2010," she said.
"I mentioned the average age of all 800m finalists from the last two Olympics and 2007 and 2009 World Championships being predominantly aged 28-32.
"By that age they are physiologically developed enough to cope with the rounds.
"I also noted that I am coming into that age bracket and have been working on developing that aspect of my training over the last couple of years."
Simpson could appeal against the decision to an independent panel.
"If I decide to take this further it will impinge on my preparation," she commented. "With less than a year to the Games this is a stress I don't need.
"My other option is to focus my energy on training harder than ever and look to build a longer lasting relationship with a private sponsor."