Oscar Pistorius not certain of 2012 Olympic place
Last updated on .From the section Athletics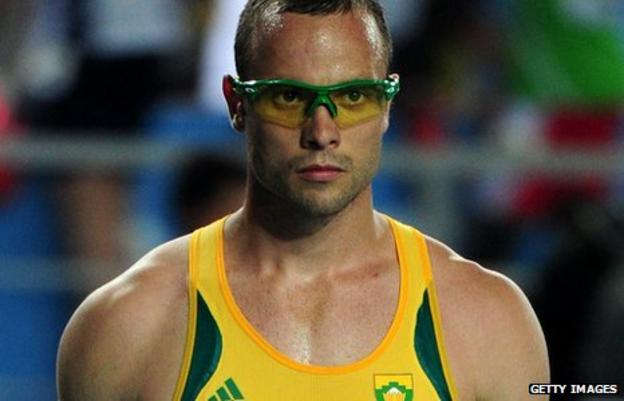 Oscar Pistorius is not guaranteed a place at the 2012 Olympics in London, South Africa's Olympic Committee (Sascoc) has confirmed.
The double-amputee, 24, ran the Olympic "A" qualifying time in July, earning a place at the 2011 World Championships.
But Sascoc says all South African athletes must run the Olympic qualifying time again before the Games.
"Within three months of the Games, if he runs that time he qualifies," said Sascoc chief executive Tubby Reddy.
"Many people have said he has run that time already, however, he has not qualified."
In September Pistorius told the BBC he is determined to win a medal at both the London Olympics and Paralympics.
Sascoc president Gideon Sam said that South Africa's Olympic body had tightened its criteria after several swimmers posted the qualifying time just once before the 2000 Sydney Olympics, and then put in disappointing performances at the Games.
"We have to stick to our guns," he said. "The criteria works like this: to avoid a situation of a flash in the pan, you make the time, but you have to show evidence that again you can make that time.
"There's opportunities up to July next year for all the other athletes. And there will be more of them."
At present, only a handful of South African rowers, a canoeist and the country's women's football team are certain of competing in London.
Pistorius ran a personal best 45.07 seconds on his carbon fibre blades at a meeting this year in Italy, the first and only time he has run inside the "A" standard time.
That meant he became the first ever amputee athlete to qualify for the World Championships.
He clocked 45.39 in the 400m heats in Daegu and then 46.19 as he finished last in his semi-final and failed to reach the final.
But Pistorius, known as Blade Runner, did become the first Paralympian to win an able-bodied World Championship medal when the South African 4x400m team won silver.
The double amputee did not run in the final but took part in the heats, making him eligible for a medal.