Dwain Chambers's manager wants athlete's Olympic ban overturned
Last updated on .From the section Athletics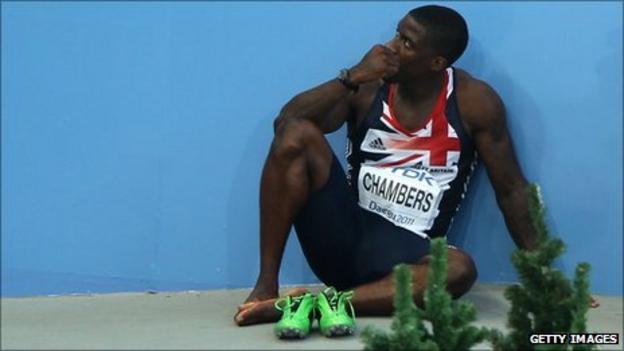 Dwain Chambers's manager wants the British Olympic Association (BOA) to lift the athlete's ban from the Games.
The sprinter is considering appealing against a BOA by-law that bars him from competing at the Olympics because he failed a drugs test in 2003.
The World Anti-Doping Authority (Wada) wrote to the BOA in October urging them to review their life-ban policy.
"There is an increasing lack of support for life-ban sanctions," Chambers's manager Siza Agha said.
"It is of great significance that Wada is spearheading the invitation to the BOA for reform of the by-law."
The United States Anti-Doping Agency has also told the BOA to scrap its policy.
Wada's move came after the Court of Arbitration for Sport (Cas) judged that the International Olympic Committee's (IOC) rule barring doping offenders was unenforceable.
"Putting aside the plainest legal soundings from Cas, I find it difficult to understand how the BOA by-law leaves no room for redemption," Agha added.
"It would be very curious if the BOA was unwilling to take advice from the organisations who have the expertise and are charged with the primary responsibility in this field.
"Such a course, if maintained, would be misconceived and very unfortunate."
The IOC's rule barred any athlete who has received a doping suspension of more than six months from competing in the next Olympic Games.
The Cas ruling cleared American LaShawn Merritt to defend his Olympic 400m title after it upheld his appeal against an IOC ban.
Merritt, 25, successfully argued that the ruling went beyond the Wada Code, which came into force in 2004 and harmonised rules around the globe. It brought in a maximum ban of two years for athletes who test positive for performance-enhancing drugs.
America's former Olympic champion Michael Johnson has voiced his concern that the BOA by-law, which was introduced in 1992, is unfair.
However, Colin Jackson, the double world 110m hurdles champion and Olympic silver medallist, wants Britain's national Olympic committee to "stick to its guns".
Chambers, 33, failed in a previous attempt to overturn his BOA ban prior to the 2008 Beijing Olympics.