Jemma Simpson may get reprieve from lottery funding cut
Last updated on .From the section Athletics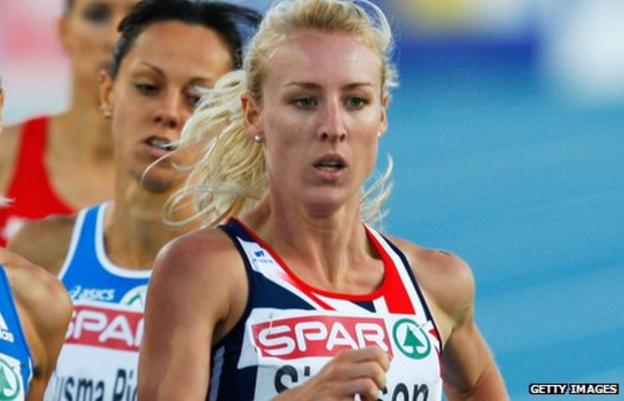 Cornish 800m runner Jemma Simpson could get a reprieve from her funding cut.
The 27-year-old initially , but she says the decision could now be overturned.
In an email to BBC Radio Cornwall she says UK Athletics head coach Charles van Commenee has agreed to look at her case again after she was dropped following an injury-hit 2011 season.
"He has agreed to take my case back to the panel of judges," she said.
UK Athletics decided to give funding to Marilyn Okoro, Jenny Meadows and Emma Jackson rather than Simpson.
The Cornish runner says the panel will also hear evidence from Simpson about why she feels she should get funding.
"This is great news for me as it means I could still receive some support leading into the Olympics," added Simpson.
"The clear facts that I presented to Charles will help my case for reinstatement."
Simpson says the selectors failed to take into account her age, she will be 28 at the time of the Olympics and says that 20 of the 32 runners that made the last Olympic 800m final and 2007 and 2009 World Championships finals were aged 28 or over.
Simpson also says she is increasing her endurance training to be able to cope with three rounds in an Olympics and pointed out that at the end of the 2011 season she ran the Olympic 'A' qualifying standard of one minute 59.5 seconds.
"Facts like these, I believe, were left out of the original meeting," she said.
"This funding situation has made me stronger and even more determined to be in that Olympic final.
"My plan leading into the Olympics will not change drastically, but my support system in the meantime will have to.
"I have received an unbelievable amount of support throughout this, especially from people in Cornwall.
"It is amazing to know that so many people believe in me and are willing me all the way to the start line."