London 2012: Usain Bolt to target four golds at Olympics
Last updated on .From the section Athletics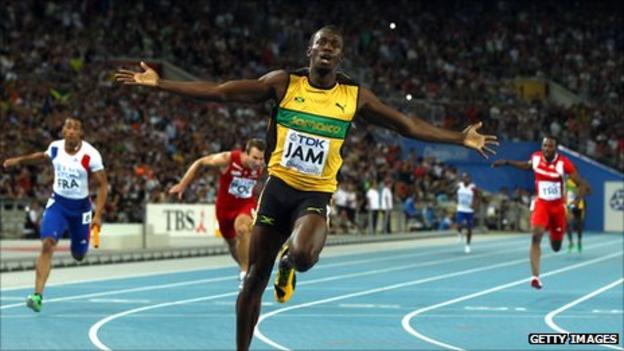 Usain Bolt plans to compete in four events at the 2012 Olympics in a bid to equal Carl Lewis's gold medal record.
The 25-year-old Jamaican says he will run the 4x400m relay for the first time, as well as defending his Olympic titles in the 100m, 200m and 4x100m.
Bolt was speaking after he and Australian sprint hurdler Sally Pearson were named athletes of the year.
He said: "I will probably be in good shape and I know the guys are really stepping up the 400m level in Jamaica."
It is the third time Bolt has been named athlete of the year by governing body the International Association of Athletics Federations (IAAF).
He at this year's World Championships in Daegu, where he also helped Jamaica of 37.04 seconds.
However in South Korea, Bolt also surrendered his chance to defend his world 100m crown when he was allowing compatriot Yohan Blake to succeed him.
IAAF MALE AND FEMALE ATHLETES OF THE YEAR

2011

Usain Bolt (Jam)

Sally Pearson (Aus)

2010

David Rudisha (Ken)

Blanka Vlasic (Cro)

2009

Usain Bolt (Jam)

Sanya Richards (USA)

2008

Usain Bolt (Jam)

Yelena Isinbayeva (Rus)

2007

Tyson Gay (USA)

Meseret Defar (Eth)

2006

Asafa Powell (Jam)

Sanya Richards (USA)

2005

Kenenisa Bekele (Eth)

Yelena Isinbayeva (Rus)
Pearson, also 25, produced the fourth fastest women's 100m time in history, and the fastest in 19 years, when she in 12.21 seconds.
She becomes the first athlete from Oceania to win the IAAF honour since the awards were introduced in 1988.
If Bolt succeeds in his ambitions next year, he will emulate the feat of Carl Lewis at the 1984 Los Angeles Games, the last male athlete to win four gold medals in track and field at one Olympics.
Lewis won his four golds in LA in the 100m, 200m, long jump and 4x100m relay, the same disciplines as fellow American Jesse Owens at the 1936 Olympics in Berlin.
Bolt said recent Achilles tendon and back injuries had affected his ability to judge his starts effectively but that he was now pain-free.
And he insisted his Jamaican team-mates were improving in the 4x400m and said he wanted to help his country win the Olympic title for the first time since the 1952 Helsinki Games.
"If I can help to get them a gold medal, I will want to go on that team," he said.
"Injury-wise, I am great. I have no problem and I've started high-intensity training.
"I definitely would want to try because if I do as well as in Berlin [in 2009], the 4x400m would top it off and even make it much better."