Plymouth sprinter Katherine Endacott aims for 2012 spot
Last updated on .From the section Athletics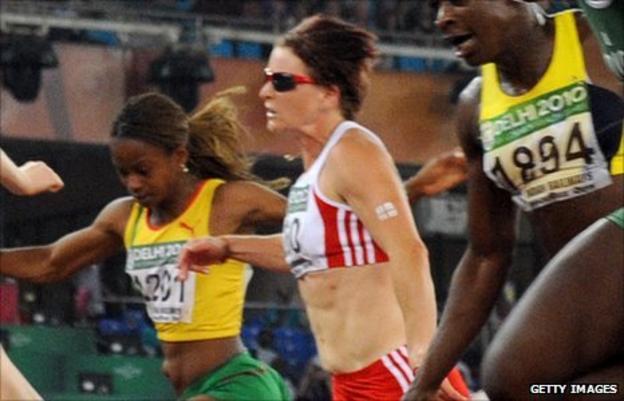 Plymouth sprinter Katherine Endacott is still aiming to make the Great Britain squad for the 2012 Olympics.
The 31-year-old, who has been picked by the British bobsleigh squad and is hoping to race at the 2014 Winter Olympics, insists that being part of the London Games remains her priority.
"2012 has always been in my sights as part of the relay squad," she said.
"And I don't just want to go there for a relay. I want to go there for an individual spot as well."
Endacott won an individual silver medal, having initially finished fourth, and 4x100m gold at last year's Commonwealth Games.
"2012 is my aim because it's London and my family never came out to the Commonwealths," she told BBC Radio Devon.
"To run in front of your home crowd and have the home nation behind you is one of those things that every person dreams of."
Endacott says that her work with the British bobsleigh team has improved her chances.
"The 100m is good for me," she added. "In bobsleigh, a lot of things are to do with speed and my speed's improving a lot over the winter period."
Endacott's aim is to get under the qualifying time of 11.3 seconds, then do well at the Olympic trials next June.
"It all depends on the trials," she said. "I'd have to run a personal best and I know I'm in PB shape.
"If you come in the top two and run the qualifying time you're guaranteed to be in the Olympics."