England Athletics suspends athlete Rob Sloan for six months
Last updated on .From the section Athletics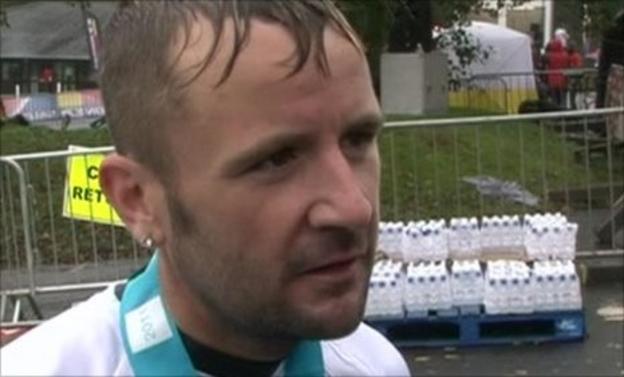 Sunderland-based athlete Rob Sloan has been suspended for six months by an England Athletics independent disciplinary panel, subject to appeal.
Under the terms of the ban, backdated to 9 October, Sloan is banned from all competition or from taking part in any event under UK Athletics rules.
The runner has until 22 November to appeal against the panel's decision.
Sloan was disqualified from October's Kielder Marathon and stripped of his third place amid claims he cheated.
He handed back the medal but denied accusations that he cheated.
A statement from England Athletics said: "Following an investigation by England Athletics, an Independent Disciplinary Panel chaired by Mr Walter Nicholls (Solicitor) met on 3 November 2011 to consider allegations of misconduct against Mr Robert Sloan, an athlete formerly with Sunderland Harriers.
"The outcome of the hearing was that Mr Robert Sloan is to be suspended from all competition or from taking part in any event organised or run under UKA Rules for Competition for a period of six months dated back from 9 October 2011.
"Mr Sloan will have the right to appeal the panel's decision and must do so in line with the England Athletics Disciplinary Procedures for Affiliated Members."
The controversy at Kielder surrounded claims that Sloan did not complete the full 26-mile course, despite ending the race in third place.
, while .
Following the organisers' disqualification decision, Sloan was expelled from the Harriers, and the third place was handed to